Summer Camps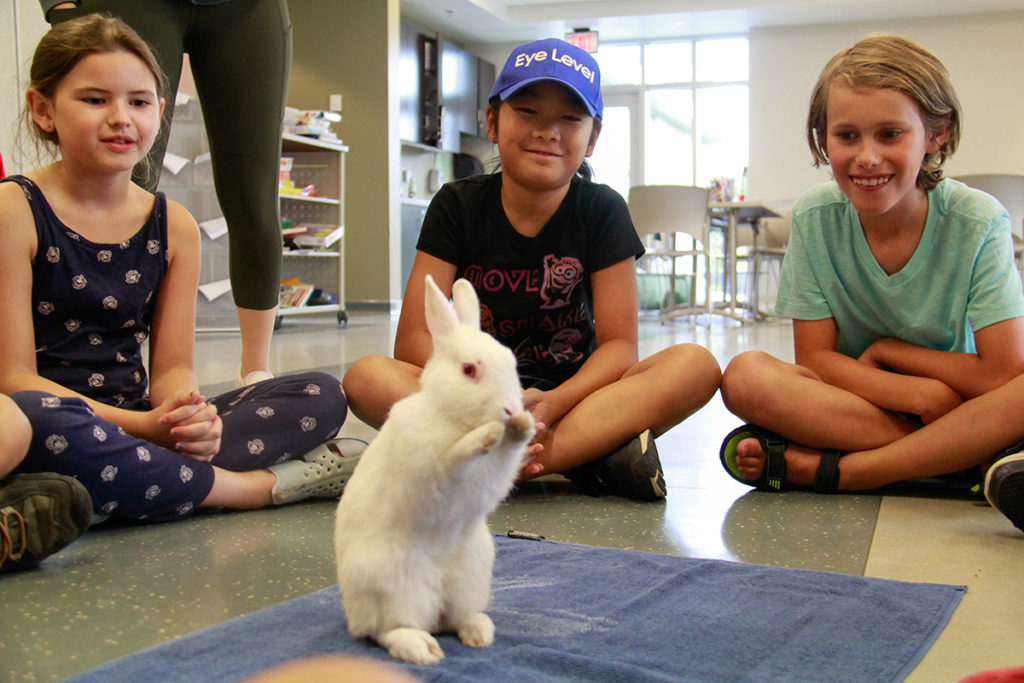 These week-long camps each feature a special theme and are a great opportunity for children to get a more in-depth behind-the-scenes OHS experience, while visiting with shelter animals. OHS summer camp highlights include:
A daily Humane Education lesson
A behind-the-scenes tour of the shelter
Daily Cat Gallery visits
Daily small animal visits
Daily volunteer dog visits
A guided dog walk
A scavenger hunt
OHS staff guest speakers (adoptions counsellors, vet techs, etc.)
A special visit from the Wild Bird Care Centre
A special visit from Reptiles' Rock
Animal yoga
Water games and sprinkler activities
A variety of animal-themed crafts
A variety of animal-themed games
Quiet free-play time
Pizza day (every Friday!)
And so much more!
All of our activities are geared towards teaching campers about animal care, handling and welfare. We try to have at least three 20-minute animal interactions every day, but that can sometimes vary depending on animal availability and behaviour. Our top priorities are the well-being and safety of both the campers and our animals. We provide a fun and safe learning environment for our campers, and one that is free of undue stress on the animals.
Click here to read FAQs about the OHS camp experience!
Camp Location: Summer camp is held at the OHS in the Education Centre.
Camp Hours: Regular programming runs from 9 a.m. to 4 p.m. each day. Extended care hours are available from 7:45 a.m. to 5:30 p.m. for an additional $25/week fee.
Cost: (Includes special Friday pizza lunch (with two slices of cheese pizza, a fruit cup and juice).
Five day camps: $320/week (+ optional $25 for extended care)
Four day camps: $285/week (+ optional $25 for extended care)
2020 Summer Camp Dates:
Monday, June 29 to Friday, July 3 *four-day camp week
Monday, July 6 to Friday, July 10
Monday, July 13 to Friday, July 17
Monday, July 20 to Friday, July 24
Monday, July 27 to Friday, July 31
Tuesday, Aug. 3 to Friday, Aug. 7* four-day camp week
Monday, Aug. 10 to Friday, Aug. 14
Monday, Aug. 17 to Friday, Aug. 21
Monday, Aug. 24 to Friday, Aug. 28
Summer Camp Refund Policy: Parents are required to cancel their summer camp registration through the MyTime online system. Cancellations without penalty must be submitted seven days prior to the camp start date. Any cancellations made within seven days of the camp start date will result in an automatic administration fee of $150 charged through the MyTime online system.
For more information, email programs@ottawahumane.ca or call 613-725-3166, ext. 298.