Careers
Put Your Love of Animals to Work
Want to make a difference for the animals?

We have many great positions for someone who loves working with animals or who wants to make a positive impact in Ottawa. Taking care of animals is just one of the many opportunities available for you.
Working with and for animals, advocating for their health and well-being or supporting others who do, can be a very rewarding and satisfying career.
If you're a people-person who thrives on connecting with your community, our team has many opportunities where you will learn, grow or bring your own experience and help create a more humane and compassionate community for all.
We are committed to our team's success. Find out from our President & CEO, Sharon Miko, how we work with you to make your job better. Whether you are starting your career, or looking for the next rewarding step, you'll find exactly what you're looking for at the OHS.
It's a job you will feel really good about.
The Ottawa Humane Society is accredited by Imagine Canada and Humane Canada, reflecting our excellence in board governance, financial accountability and transparency, fundraising, staff management, volunteer involvement, and excellence in animal care.
There are also many opportunities for volunteering.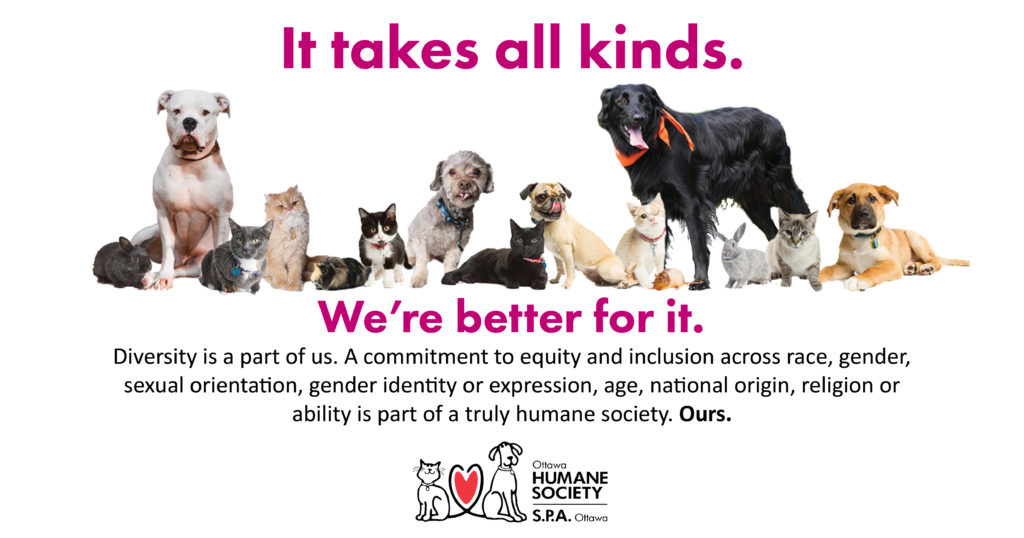 We want to hire...
Manager: Veterinary Social Work
The OHS is an open admission shelter for animals in need. The veterinary social work manager is responsible for the management of the emergency animal admission and providing trauma-informed social support to OHS clients, staff and volunteers and delivering psychoeducational training to staff and volunteers.
---
Attendant: Adoption Reception
The OHS helps animals find their forever homes and supports pet owners in the community. The attendant: adoption reception works directly with the community to help them adopt a new pet and to learn how to care for their pet.
---
Attendant: Outreach – Casual
The OHS offers a variety of programs to children, youth and adults in the community. The Attendant: Outreach is responsible for facilitating and supporting public programming at the OHS.
---
Attendant: Development – Full Time
The OHS relies on the support of a caring community to provide shelter and life-saving care to Ottawa's animals. The attendant: development helps achieve this goal by providing operational and administrative support to the development team.
---
Customer Service Representative: Intake – Full Time and Part Time
The OHS is the first step in getting lost pets home. The customer service representative: intake works directly with the public providing consultation and support for those seeking OHS lost and found services and services of the Municipal Animal Shelter.
---
Assistant: Veterinary Technician – Casual and Part Time
The OHS is a shelter for animals in need. The assistant veterinary technician works directly with the animals and is responsible for providing a range of services, including medical, for animals in the care of the OHS.
---
Veterinary Technician: Animal Care – Full Time
The OHS is a shelter for animals in need. The veterinary technician is responsible for the health and well-being for the animals in the care of the OHS, including providing medical assessments and interventions.
---
Registered Veterinary Technician: Mobile Spay/Neuter Services
The OHS provides low-cost spay/neuter surgeries to income-qualified cat owners in need. The registered veterinary technician – mobile spay/neuter service makes this program possible, working directly with cats requiring this service.