March Break Camp
Our PAW-some March Break Camp is back for 2023!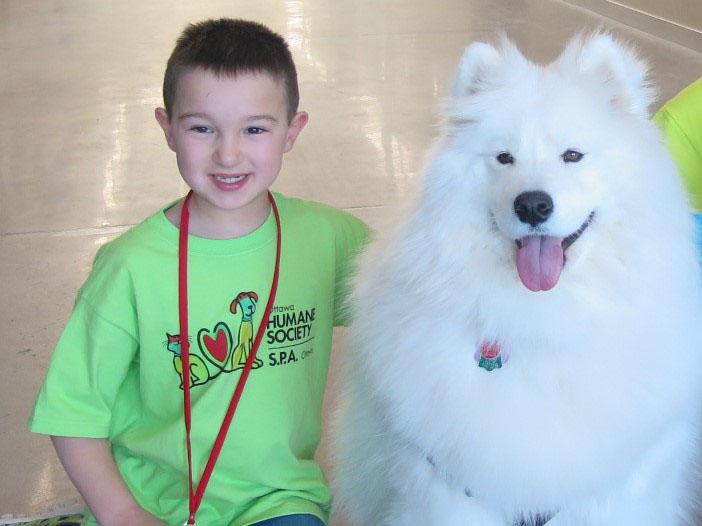 Campers can look forward to a week filled with animal-themed crafts, games, educational lessons, and of course, animal visits!
MARCH BREAK CAMP 2023
March 13 to 17, 2023 (Monday to Friday) *FULL*
Cost: $325 (+ optional $25/week for extended care)
Location: The Ottawa Humane Society (245 West Hunt Club)
Capacity: Up to 30 campers
Camp Hours: 9 a.m. – 4 p.m.
Extended Care: Available from 8 a.m. to 9 a.m. & 4 p.m. to 5 p.m. for an additional fee of $25/week.
Must be selected and paid for upon registration.
Minimum Age Restriction: six years old.
Maximum Age Restriction: 10 years old.
Cheese pizza lunch is included for campers on Friday.
Online registration immediately guarantees your child a space at camp. Payment is required upon registration.
Read the FAQ about the OHS camp experience!
Check out our OHS March Break Camp – Parent Handout!
March Break programming includes:
Humane education presentations
Tour of the OHS, including Shirley Kearns Memorial Adoption Centre
Cat gallery visits
Small animal visits
Volunteer dog visits and/or dog walks*
Guest speakers
Educational lessons
Animal-themed crafts
Animal-themed games
Quiet free-play time
* Subject to availability of volunteer dogs.
Online registration immediately guarantees your child a space at camp. Payment is required upon registration.
Shelter Animals & Availability:
To maintain safety and security of all participants, and to reduce stress of animals in our care, shelter dogs are not used in this program. Cat and rabbit interactions are subject to animal availability on the day of the scheduled camp.
Animals are behaviourally assessed for suitability in being with children, as well as health checked by our animal care team. Animal availability may be determined by an animal's health or adoption status, stress level and temperament.
All proceeds above and beyond the costs to run camp go to the animals at the OHS!
COVID-19 Safety Protocols: To ensure the safety of OHS staff, volunteers, participants and animals, we ask that campers stay home if they are experiencing symptoms of COVID-19 or live with a person who has tested positive for COVID-19 in the last five days. At this time, masking is not required for OHS programs, although children who feel more comfortable wearing masks are encouraged to do so. We are regularly monitoring public health regulations and will update our COVID-19 safety protocols if anything changes.
March Break Camp Cancellation Policy: Refund requests received 7 days in advance of the scheduled camp program are eligible for a refund (a non-refundable $25 administration fee applies). Refund requests received within 7 days of the scheduled camp program are not eligible for a refund. Note: Full refunds will be issued in the event the OHS has to cancel a scheduled camp program.
For more information, email programs@ottawahumane.ca or call 613-725-3166, ext. 298.