Wedding Celebration Program
About the Wedding Celebration Program
Start your happily ever after with a meaningful dedication and show your love for all creatures big and small with the Ottawa Humane Society Wedding Celebration Program.
The Ottawa Humane Society Wedding Donation Program is a way for couples to mark their special day while helping Ottawa's animals. When you chose to donate to the OHS in lieu of favours, you and your guests help the thousands of homeless animals the OHS cares for annually. You also allow the OHS to continue to provide leadership in animal welfare, building a brighter future for our community.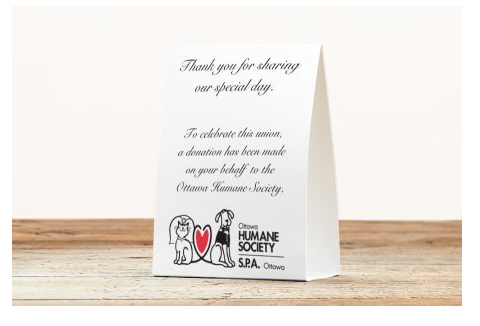 We offer the following programs to support couples in the celebration of their engagement and marriage:
In lieu of wedding favours: For a donation, we can provide you with our standard wedding donation place cards, table tent cards and/or wedding donation posters. We suggest $3-6 per guest when making a donation in lieu of traditional wedding favours.
Did you say "I Do" to donating to the OHS in lieu of wedding favours? Find out more about making your donation.
In lieu of wedding gifts: Requesting that your guests make a tax-receiptable donation in lieu of wedding gifts is a fantastic way to make a difference in the lives of the animals in need.
It's simple — create your own wedding page online to provide a destination for your guests to make their donation in honour of your wedding. You can also send updates to your guests from your page and post photos of your special moments.
To inform your guests, we encourage you to make a request for donations by providing your guests with your wedding page link. We will also personally thank your guests and send them their tax receipts for their donation.
Did you say "I Do" to creating your own personal OHS wedding page? Create your page now!
OHS Wedding Celebration Program logo options: the Ottawa Humane Society Wedding Celebration Program logos are available in male and female same-sex versions.
For more information please email: events@ottawahumane.ca or phone: 613-725-3166 ext. 238.
Congratulations to the happy couple on your engagement
and finding your "furever" home together!