Search Results for:

wildlife
Different Cats, Different Solutions
As our new Mobile Spay/Neuter Vehicle hits the streets, the prospect for long-term solutions to cat overpopulation and cat welfare are becoming clearer. The thing is, cats in our community live in very different circumstances, there are many reasons for the problems, and all need tailored solutions.
A significant source of overpopulation is feral cats. Feral cats are not stray. They are generally the progeny of stray or roaming cats and have never lived with humans. They are not wildlife, nor are they pets. Their lives are generally nasty, brutish and short. According to the experts, our friends at Alley Cat Allies, adults cannot ever be truly socialized to humans, though their young kittens can be.
Then there are "porch" or "loosely owned" cats. These cats are socialized to humans, though may be very skittish. They have, or had, an owner and are fed and loosely cared for by a neighbourhood. Unfortunately, the neighbourhood's care rarely extends to veterinary care or sterilization. Therefore, these cats are a significant source of unwanted litters. Those not vaccinated can be a reservoir for contagious feline disease.
It can be hard to identify a skittish stray or porch cat from a true feral cat. But in a shelter, socialized porch or owned cats will generally calm with time. Feral cats do not, and may injure themselves, sometimes severely, trying to escape. Their stress can be so intense that they can die of heart failure in a cage. It is not humane to shelter a severely distressed feral cat.
The issues of each type of cat are very different and require different solutions. Since most feral cats cannot be humanely housed, the standard humane practice is "TNR," or trap/neuter/release, that is, capture, sterilize and vaccinate, and release them where they were found. Feral cat colonies can be phased out over time through TNR. The OHS assisted volunteers to phase out the famous Parliament Hill colony several years ago through TNR in advance of government intervention that may have seen the entire colony euthanized. The OHS will support other feral colony caretakers under certain conditions through free food and sterilization at our clinic.
Porch cats can and should be socialized and rehomed. If they are rehomed through the OHS, they will leave healthy, vaccinated and sterilized to a good home that is ready and able to care for them. They will no longer contribute to cat overpopulation.
I am feeling very positive and hopeful that our efforts are going to produce very significant results and quickly, changing the world for Ottawa's cats by resolving the problem identified in the OHS's new five-year strategic plan, that is, too many cats will live wretched lives as long as there are too many cats.
Bruce Roney
Executive Director
A Tragic Death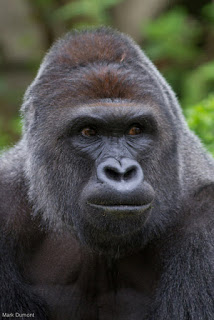 Harambe
The world has been shocked and horrified by the shooting of Harambe, a 17-year-old silverback gorilla at the Cincinnati Zoo. If you haven't yet heard the story, a four-year-old boy fell into the gorilla enclosure, and after some tense moments, with the gorilla dragging the boy around the compound and displaying behaviour that some have described as protective, others as dangerously agitated, zoo officials made the decision to shoot Harambe. The child was rescued, relatively unscathed and the gorilla is now dead.
I feel for everyone involved: the child, the distressed mother, the zoo employees called upon to shoot a creature that they had raised from birth — one of the last of his kind. As for Harambe, his death just makes me very, very sad.
I have looked at the footage of the incident, and have thoughts, but given I am in no way an expert, or even slightly conversant in gorilla behaviour, I will not stoke the fire. I will keep my observations to myself.
But here is what I do know: when there is conflict between humans and wild animals, whether they be a gorilla in a zoo, a performing elephant, or a fox living on a piece of land to be developed, the animal almost always loses.
What can you do? You can reject circuses, zoos and aquariums that exploit animals for entertainment. Rather than trapping and relocating wildlife on your property, you can learn to coexist. If we make these changes, maybe one day the animals will stop losing.
Bruce Roney
Executive Director
More than Good Manners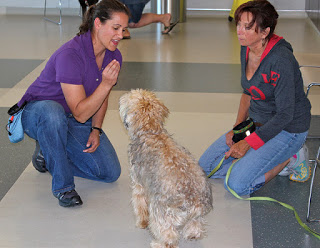 Obedience classes and training have many benefits.
It's been quite a few years since I have had a dog in my home life. At the OHS, I am lucky to meet a lot of dogs, but a dog of my own just hasn't been compatible with my busy work and personal life. As demanding as she can be, my cat Gracie — the Siamese who must be obeyed — doesn't need as much time as the average dog. So, I have deferred adopting a dog to my retirement.
My last dog was a cocker spaniel. While sweet, and by no means truly badly behaved, Jennie could be a handful. I didn't take her to obedience classes and I regret this now. Many OHS staff have outstandingly wonderful dogs. I realized over the years that the dogs didn't come that way. They are great dogs because our staff made an investment of time and effort in training and obedience.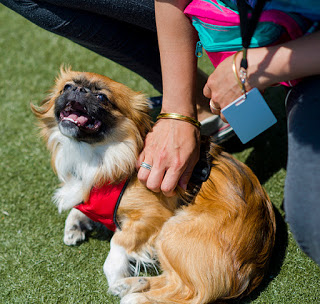 Obedience classes can strengthen the bond
between dogs
and their owners.
I have learned my lesson and when I finally bring a dog into my life again, I will spend the time to "create" a wonderful dog with classes. Most people want a dog with good manners and social skills when interacting with people, they want a dog that doesn't jump up, scare children, or pull on the leash, and can respond to at least simple commands. Classes and training between classes can to do this. Moreover, studies suggest that classes and training enhance the communication and bond between people and their dogs. The time spent has many rewards.
Classes can save a dog's life. By learning to recall, you can prevent her from being hit by a car or attacked by wildlife or unknown dogs. They can lessen or eliminate those behaviours that can make living with a dog a minor hell: destructiveness, excessive barking, and house soiling for example.
I have learned my lesson; I have been converted. My next dog will be wonderful. She may not be born that way, but that's okay. I am going to help her become wonderful.
Bruce Roney
Executive Director
Killing with Kindness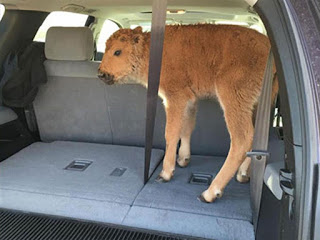 The story of two Canadian tourists visiting Yellowstone National Park and "saving" a young bison calf by putting it in the back of their SUV and taking it to a ranger station has gone viral. I hope it becomes a lesson for everyone.
Most of us would feel sick if they killed a healthy young animal by mistake. Here is the thing, people do it all the time. Every spring, all over North America, people pick up juvenile wildlife that don't need their help. They bring them to a humane society or other authority whose only option is to euthanize the poor creature.
That is what happened to the bison. On May 16, Yellowstone National Park officials announced a baby bison had to be euthanized after a pair of Canadian tourists put the animal in their car. The two feared it was cold, despite warmer-than-average temperatures.
"The bison calf was later euthanized because it was abandoned and causing a dangerous situation by continually approaching people and cars along the roadway," park officials said in a press release.
Officials tried numerous times to re-integrate the young bison back into the herd, but it was rejected."
The story of the baby bison spread fast on social media, prompting people to demand to know why the young bison hadn't been sent to a rehabilitation centre.
Officials responded on the park's Facebook page: "In order to ship the calf out of the park, it would have had to go through months of quarantine to be monitored for brucellosis. No approved quarantine facilities exist at this time, and we don't have the capacity to care for a calf that's too young to forage on its own."
In the scale of the natural world, I know this is a very small event. And I know the tourists were concerned and meant no harm. But they did harm and this little tragedy could have been avoided, along with the dozens of little tragedies that well-meaning people in Ottawa will present the Ottawa Humane Society with this spring.
You can help. Spread the word. Unless you know for sure that juvenile wildlife needs help, such as if you can confirm the death of the mother, take our advice: if you care, leave them there.
Bruce Roney
Executive Director
If You Care, Leave Them There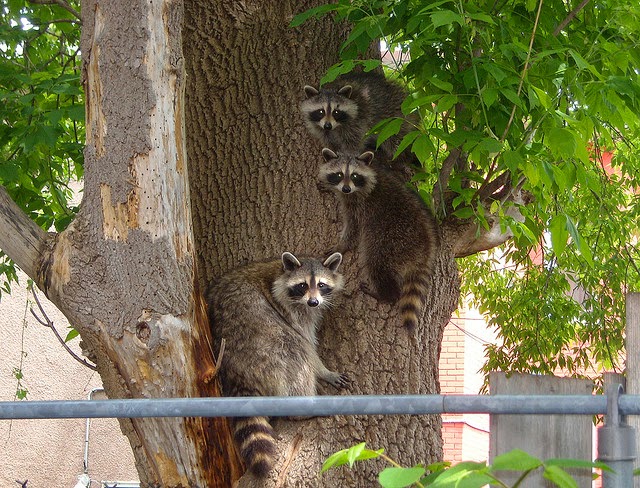 Raccoon family
Beware
the Ides of March, the soothsayer told Caesar, foretelling the day he would be
assassinated. In the Spring of 2015, the dire message should go to our local
wildlife.
As
the temperature warms, wildlife becomes more active and birthing season soon
follows. Humans start to go outdoors
more and the wildlife/people conflict begins to heat up too. The most obvious sign is the carnage on our roadways
that we begin to witness. The sign here
at the OHS is the influx of wild animals. Sadly, many of these creatures will
be juveniles that would have been safer had they been left where they were. There simply aren't enough rehabilitation
spaces for all the wildlife in our region, and most didn't need our help in the
first place.
I
know that stumbling upon a baby animal that appears to need help brings out a
helping instinct in all of us but spotting a baby animal by himself doesn't necessarily
mean he's an orphan. Many wildlife parents leave their young alone during the day,
sometimes for long periods. The mother is usually nearby and quite
conscious of her young. Also, keep in mind that despite their small size,
many young animals are actually independent enough to fend for themselves.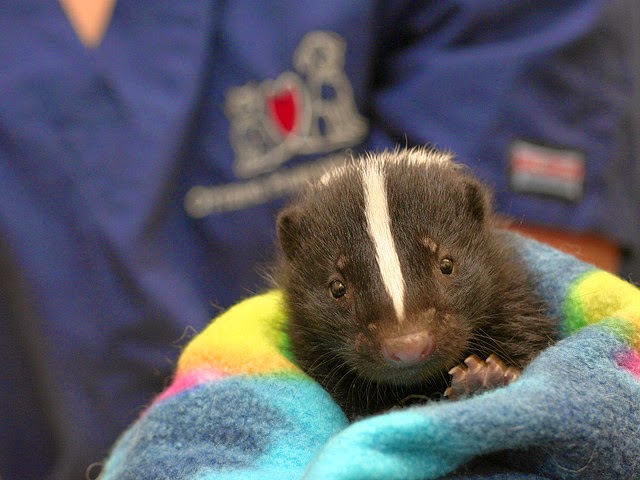 Many wildlife parents leave their young alone during the day.
How you tell if an animal needs your
help or should be left alone? If an animal needs your help, you will see one or
more of the following signs:
A wild animal presented
to you by a cat or dog
Bleeding
An apparent or obvious
broken limb
Evidence of a dead
parent nearby
Unusual or uneven loss
of fur
Difficult or raspy
breathing or sneezing
Body covered in fleas
Otherwise, please, if you care, leave him
there.
Bruce Roney
OHS Executive Director
Live Trapping and Relocation
It's natural to think that trapping and relocating is the answer but stop and read this first.
Live trapping may seem like an immediate and easy fix to your wildlife problem, however it is only a temporary solution. The homeowner should take action to determine what attracted the animal to their property and remove and/or repair the sources of attraction. Otherwise, another animal will take up residence once the other (trapped) animal has been removed, which can turn into a frustrating, reoccurring problem. Wildlife-proofing your home and property is a long-term, preventative, and humane solution.
Why can't I trap wildlife and move the animal(s) to another area?
Many people think that live trapping is a humane option because it does not result in the animal's immediate death. In reality, live-trapping and relocation is inhumane, cruel and ill-advised for the following reasons:
Live-trapping causes great stress for the trapped animal, and they may seriously injure themselves as they desperately attempt to escape.
The trapped animal is exposed to the elements and can suffer from painful cases of frostbite and heat stroke. If an animal is left in the trap it will suffer for days and will eventually die of exposure or starvation.
Domestic animals and other wildlife may harass the trapped animal causing further stress, injury or death.
Trapped and relocated animals may be separated from their young, and the dependent young left behind will die an inhumane death.
Relocated animals are at an extreme disadvantage in a new environment. They have to find food, water and shelter in an unfamiliar territory. There may be territorial disputes between the relocated animal and resident animals that can lead to injury and even death. Relocated animals may also spread disease to the resident wildlife population, therefore causing other animals to become ill and/or die.
In Ontario, it is illegal to trap and relocate animals from the site where they were captured according to the Ministry of Natural Resources' Fish and Wildlife Conservation Act.
Improper use of a live trap, which results in animal suffering, could lead to animal cruelty charges through the Ontario SPCA Act.
Although people's initial reaction may be to get rid of wild animals, trapping will not solve the problem. As long as an inviting habitat exists, wild animals will use it.
The Ottawa Humane Society does not rent or sell humane traps for the purpose of trapping and relocating wild animals.
Source: The Ontario SPCA, the Ottawa-Carleton Wildlife Centre and the Humane Society of the United States.
For more information on wildlife, contact the Ottawa Humane Society at 613-725-3166 ext. 221, or send us an email.
Get to Know Your Wild Neighbours
If you find a sick or injured wild animal, here are the steps you can take. If you need more help, call the City of Ottawa at 311.
From the squirrel that raids your birdfeeder to the foxes that frisk in the distance, learn about these creatures and their habits to make peaceful coexistence easier. And in some cases, a greater understanding could even transform fear into interest.
Live trapping may seem like an immediate and easy fix to your wildlife problem; however, it is only a temporary solution. Read our take on why trapping and relocating is a bad idea.
If you can't find the answer to your wildlife question and it's not an emergency, contact the Ottawa Humane Society at 613-725-3166 ext. 221, or send us an email.
Wildlife Babies
If you find a sick or injured wild animal, here are the steps you can take. If you need more help, call the City of Ottawa at 311.
For large wildlife, such as deer, moose and bear, please call Ottawa Police Services at 613-236-1222.
Stumbling upon a baby animal that needs help usually brings out the maternal instincts in all of us. But spotting a baby animal by himself doesn't necessarily mean he's an orphan. Many wildlife parents leave their young alone during the day, sometimes for long periods. The mother is usually nearby and quite conscious of her young. Also, keep in mind that despite their small size, many young animals are actually independent enough to fend for themselves.
How can you tell if an animal needs your help or should be left alone? If an animal needs your help, you will see one or more of the following signs:
A wild animal presented to you by a cat or dog
Bleeding
An apparent or obvious broken limb
Shivering or coldness to the touch
Evidence of a dead parent nearby
Unusual or uneven loss of fur
Difficult or raspy breathing or sneezing
Body covered in fleas
Is the Juvenile or Baby Animal Really an Orphan?
Juvenile or Baby Deer or Moose
Juvenile or Baby Foxes
Juvenile or Baby Rabbits
Juvenile or Baby Raccoons
Juvenile or Baby Skunks
Juvenile or Baby Squirrels