May 6, 2021
Saving Lives with Communication
Over the past several years, as a part of our five-year strategic plan, the OHS has greatly expanded the volume of communication to our community and our supporters. Why? Well, if we are truly committed to a brighter future for animals, we need to do more than rescue them when they are sick, injured, lost or abused. We need to confront the issues that brought them to such dire circumstances. To do this, we need to create awareness, provide information and education and we need to support our community in caring for and about pets, wildlife and even livestock.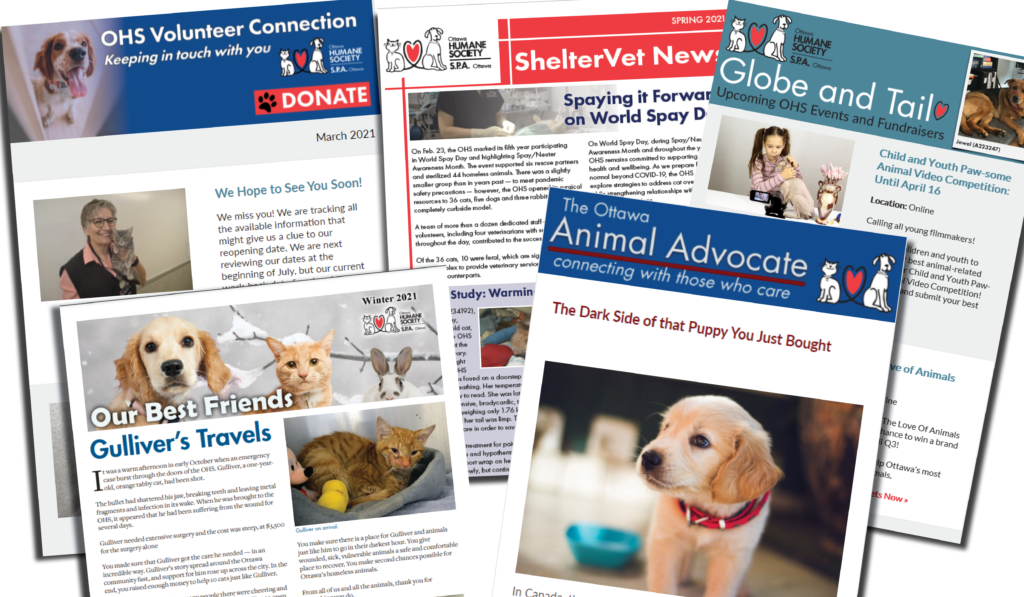 Here is the rundown of what we offer:
Our Best Friends (OBF) is a quarterly paper newsletter mailed to all OHS donors and stakeholders. OBF highlights the difference that our donors make in the lives of animals and the work and care that is only possible because of them, as well as amazing stories of miraculous recoveries and second chances. To be added to our OBF mailing list, just pop us an email.
The Animal Advocate is a digital newsletter that brings readers up-to-date on animal welfare news locally, provincially, nationally, and occasionally even internationally. In the Animal Advocate, expect to see stories about animals in captivity, pets, wildlife and even livestock and the issues that affect their lives and well-being. Moreover, you will find out what you can do to help.
The Globe and Tail is a monthly digital bulletin. It's a rundown of programs and services available at the OHS as well as upcoming events — fundraising and those that are just for fun. Expect to see stories and notifications about camps and workshops, programs and events offered by the OHS.
Of course, there is this blog — focused on the OHS, issues in animal welfare, and our thoughts and plans about addressing these issues.
The OHS is very active on social media, regularly posting on Facebook, Twitter, Instagram and occasionally even LinkedIn. Follow us for announcements, celebrations, amusing memes, and updates on issues affecting Ottawa's animals.
The OHS also publishes specialized offerings. The first, Volunteer Connections, keeps our 800 or so volunteers in the loop as to what is happening at the OHS, our plans, and volunteer activities and opportunities that are important to them. The OHS also publishes a short bulletin, Shelter Vet, for the veterinary community in the region. Shelter Vet provides local veterinarians with insights into the work we do, the trends we are seeing in animal health, and of course, sincere thanks for their support.
That's a lot of communication, but I believe it is what our community needs to grow in its caring and compassion for animals.
Bruce Roney
President & CEO