April 29, 2021
I Did Then What I Knew How to Do
"I did then what I knew how to do. Now that I know better, I do better."
Maya Angelou
I grew up in the late 60s and 70s, just after the peak of the civil rights movement. It seemed to me then that equality and social justice were inevitable – everything would just keep getting better, even if it would happen slowly.
So, here we are 50 years later, and as a society we are nowhere near where I believed we would be; nowhere near where we should be. There are too many terrible things happening to people in our country today, because of their race, gender identity, sexual orientation, abilities, or one of the many other characteristics that marginalize and even dehumanize people. It horrifies me.
It seems to me that the only way things will get better is if all of us commit to making a difference in the small space in which we have influence.
It also seems to me that being a humane society should mean something beyond the kind of work we are known for, as important as that work is. We aren't the animal society, we are the Humane Society. If that is to mean anything, then we have to care about what happens to people too. How can we expect to be compassionate to animals if we can't be compassionate to one another?
So, the OHS and our board of directors have embarked on a journey to work to make things better in the small space in which we have influence. We are addressing diversity, equality and inclusion right here. One of the essential elements of the plan was to create and live the statement below.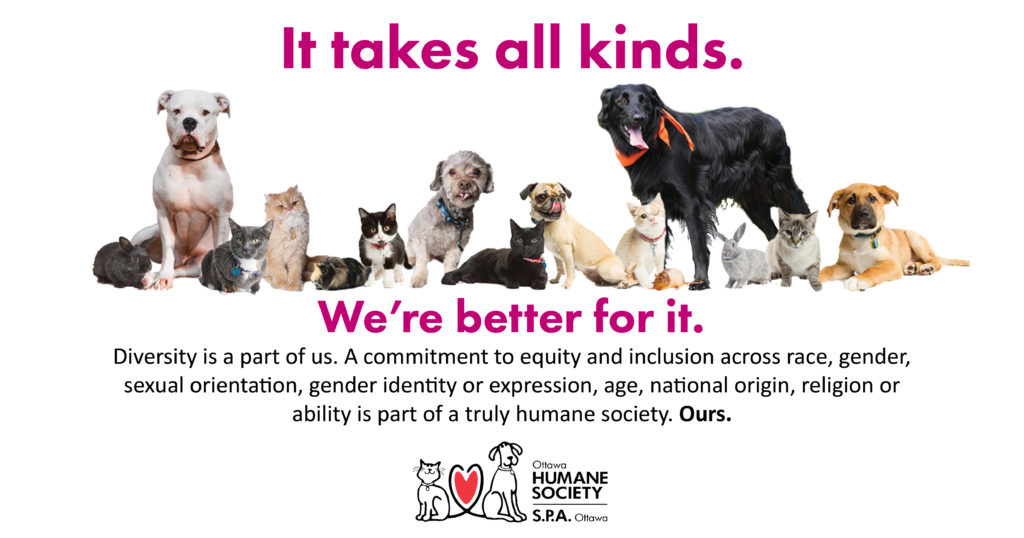 This is only one piece of a process that may take years. We will have to learn some things as we go. But we need to start.
Bruce Roney
President & CEO