Behaving Buddies Workshops
Important COVID-19 Update: The OHS continues to monitor the public health situation daily. Should a decision be made to cancel a scheduled program, clients will be provided with a full refund for all registration fees paid.
OHS obedience workshops help teach you and your dog how to overcome common unwanted behaviours. The Behaving Buddies workshop series includes: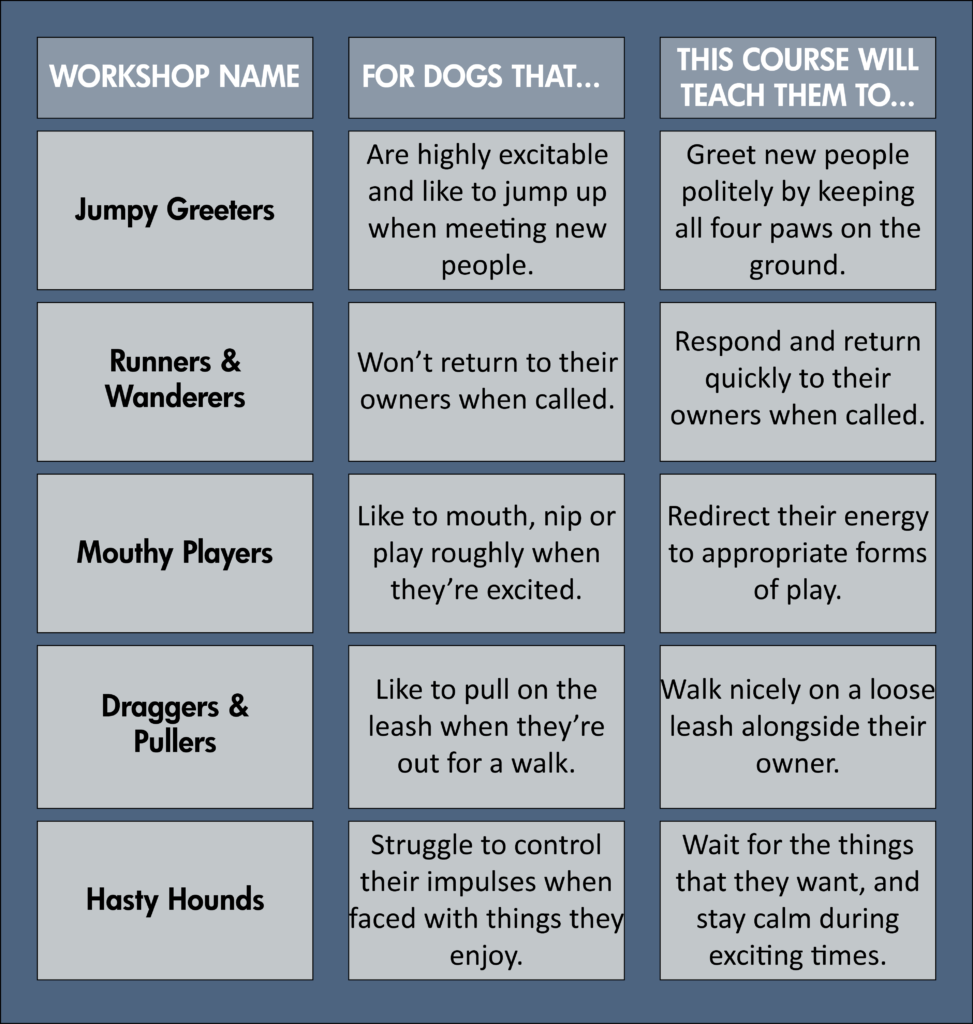 These single-session workshops are taught by professional OHS dog trainers and take place from 6 to 7:30 p.m.
 Cost: $60 per dog
Upcoming Workshops (registrations will open in early Feb. 2022)
Feb. 14, 2022. at 6 p.m – Hasty Hounds
Mar. 24, 2022, at 6 p.m. – Jumpy Greeters
To be placed on an interest list for these workshops, please email programs@ottawahumane.ca and you will be contacted when registration opens.

COVID-19 Safety Protocols: In order to create a safe environment for all students and trainers, proof of COVID-19 vaccination, daily pre-screening, masking and physical distancing will be required in class.

Upon arrival to the OHS for the first time, training class participants must present a valid COVID-19 vaccine certificate with official QR code. For more information, click here.
A maximum of two human participants from the same household will be permitted to accompany each dog. Children attending class must be over the age of 12, accompanied by an adult and fully vaccinated for COVID-19.
Spaying and Neutering: Spay or neuter is recommended but not required for class. Read more about our position on spay/neuter here.
Dogs must be at least four months old and have the following vaccinations:
Parvovirus, Distemper, Adenovirus and Parainfluenza (up-to-date)
Bordetella vaccine (up-to-date)
Rabies vaccine (up-to-date)
Behaving Buddies Cancellation Policy: Refund requests received 48 hours in advance of a scheduled workshop are eligible for a refund of $35 ($25 administration fee applied). Refund requests received within 48 hours of a scheduled workshop are not eligible for a refund.
For more information, contact our supervisor: programs by email at programs@ottawahumane.ca, or by phone (613) 725-3166, ext. 298.