Behaving Buddies Workshops
OHS Behaving Buddies workshops help teach you and your dog how to overcome common unwanted behaviours. These single-session workshops are taught by professional OHS dog trainers and take place from 6 to 7:30 p.m.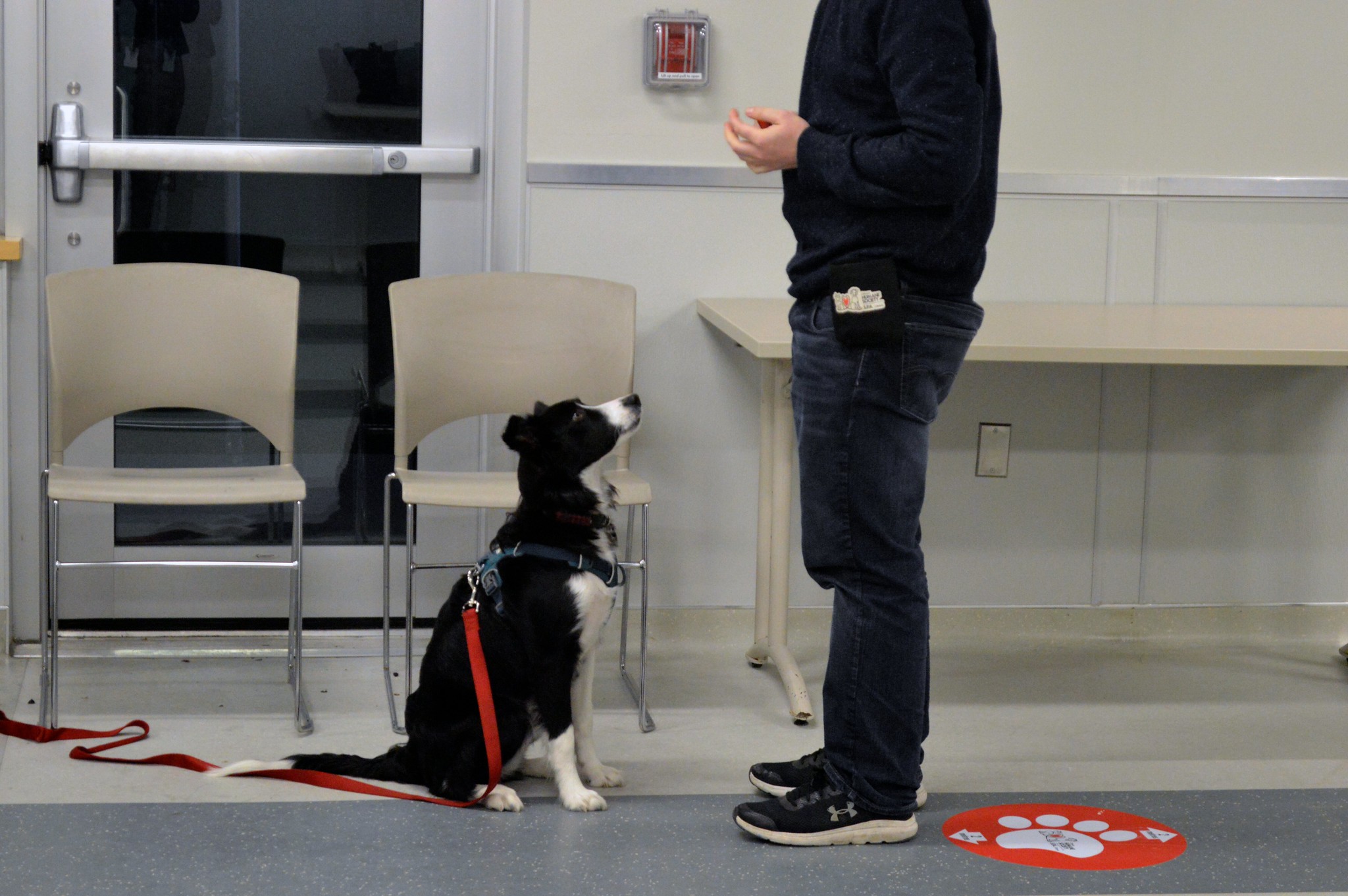 The OHS Behaving Buddies workshop series includes:
| Workshop Name | For Dogs that… | This Course Will Teach Them to… |
| --- | --- | --- |
| Jumpy Greeters | Are highly excitable and like to jump up when meeting new people. | Greet new people politely by keeping all four paws on the ground. |
| Runners & Wanderers | Won't return to their owners when called. | Respond and return quickly to their owners when called. |
| Mouthy Players | Like to mouth, nip or play roughly when they're excited. | Redirect their energy to appropriate forms of play. |
| Draggers & Pullers | Like to pull on the leash when they're out for a walk. | Walk nicely on a loose leash alongside their owner. |
| Hasty Hounds | Struggle to control their impulses when faced with things they enjoy. | Wait for the things that they want, and stay calm during exciting times. |
Cost: $60 per dog (per workshop)
Class Criteria:
OHS group classes are suitable for friendly dogs that are comfortable working around other dogs and strangers in a group environment. Dogs that may struggle with reactivity, aggression, excessive barking or other signs of anxiety around other dogs and humans are better suited to one-on-one training lessons with a private trainer.
Dogs must be at least four months old by the start of the session. For dogs under four months, puppy socialization classes are highly recommended. The OHS does not offer these at this time.
Dogs must have the following vaccinations:
Parvovirus, Distemper, Adenovirus and Parainfluenza (up-to-date)
Bordetella vaccine (up-to-date)
Rabies vaccine (up-to-date)
Please verify your canine's immunizations prior to registration to ensure your dog's immunity and that the vaccines are up-to-date (not expired). Proof of vaccination records are required for all OHS training classes.
Spay or neuter is recommended but not required for class. Read more about our position on spay/neuter.
A maximum of two human participants from the same household will be permitted to accompany each dog. Children attending class must be over the age of eight and accompanied by an adult.
 Upcoming Workshops 
Thursday, Nov. 2, 2023 at 6 p.m. – Mouthy Players (Cindy) Register Now
To be placed on an interest list for Behaving Buddies workshops that are not currently open for registration, select the "Interest List" button below. Select the calendar date (December 31, 2023) and time (11:59 pm) and select "Book Now".
COVID-19 Safety Protocols: To ensure the safety of OHS staff, volunteers, participants and animals, we ask that participants stay home if they are experiencing symptoms of COVID-19 or live with a person who has tested positive for COVID-19 in the last five days. At this time, masking is not required for OHS programs, although participants who feel more comfortable wearing masks are encouraged to do so. We are regularly monitoring public health regulations and will update our COVID-19 safety protocols if anything changes.
Behaving Buddies – Cancellation and Refund Policy: Refund requests received 48 hours in advance of a scheduled workshop are eligible for a refund of $35 ($25 administration fee applied). Refund requests received within 48 hours of a scheduled workshop are not eligible for a refund.
For more information, email at education@ottawahumane.ca or call 613-725-3166, ext. 204.