April 22, 2023
The Life-Saving Difference
Many hands make life-saving work at the Ottawa Humane Society possible. One of these essential groups is our amazing team of volunteers — close to 800 strong.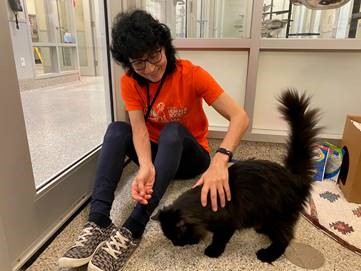 This past week, we celebrated National Volunteer Week, and we took the chance to showcase a few of the people who are a part of this selfless team. We only had the opportunity to feature a small fraction of our volunteers and the work they do on social media, and I was blown away by the outpouring of support the community showed for these mighty individuals.
So many comments voiced thanks and appreciation for our volunteers' commitment to the animals. I'm grateful beyond words that the OHS is graced with a caring, supportive group of people dedicated to giving animals in need a second chance.
Volunteers are there for every step of an animal's journey at the OHS. From the moment the animal enters our care to when they leave in the arms of their forever family. Volunteers save lives and make it possible for so much more to be done for Ottawa's homeless animals.
These are people who put animals first and make an incredible contribution. National Volunteer Week is a good time to show our appreciation, but showing it year-round is even better.
Volunteers are the lifeblood of the OHS, and I am so grateful that the OHS and the thousands of animals we care for have their support.
Sharon Miko
President & CEO