August 16, 2018
Kitty Crisis: An Update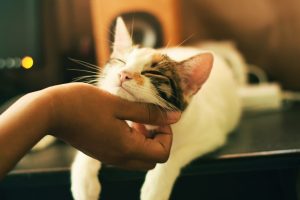 You may have read in last week's blog that things were pretty dire here at the OHS. We reached a record of over 500 cats in our care—between the shelter, our own adoption centre, our partner locations and our foster homes. That created a tremendous strain on our capacity to provide the high level of care that the animals deserve. Over the past couple of weeks, we have been asking you, our community, for help: to adopt, foster and donate.
So, how is it going?  Well, there's good news and bad news.
First, the good news:
In the past two weeks, you stepped up and gave forever homes to 184 cats! That is an incredible number of adoptions in a short time. Thank you for this. It really makes a difference and we are looking forward to hearing form everyone who adopted about how their new best friend is doing.
In the same period, you stepped up to become foster volunteers. We oriented 18 new volunteers this week, adding to another 18 oriented in late July. To date, another three have signed up for our August 28th orientation, bringing the total foster volunteers up by 39. That increases our capacity to care for the most vulnerable tremendously, and we are very grateful.
You donated gifts to help the animals. In the past two weeks, our kitten campaign raised over $8,000. This helps a lot. Many of the animals admitted have exceptional care needs, and this helps us meet those needs.
Now the bad news:
Sadly, while 184 cats went to their forever homes in the past two weeks, the OHS admitted another 153 cats into our care in the same period. As of yesterday, the OHS still had 78 adult cats and 8 kittens ready and waiting for a new home here at the OHS and in our Pet Adoption Locations.
If you have been thinking about adopting, this is the time!
39 new foster volunteers helps a lot, but today there are still 24 animals waiting for a caring temporary home. With summer holidays in full swing, a lot of our long-time volunteers are not available.
If you have been thinking about giving an animal a second chance by caring for her in your home, there is still room in our upcoming orientation!
We are grateful that so many of you stepped up to make a gift to the animals during this exceptional time. With the sheer numbers in our care, and more arriving every day, the animals need you to dig deep.
Will you consider a gift today?
Thank you for everything you have done to date. We will get through this. More importantly the animals will get through this, with your help.
Bruce Roney
President and CEO