Air Miles
Donate Your Air Miles to Help the Animals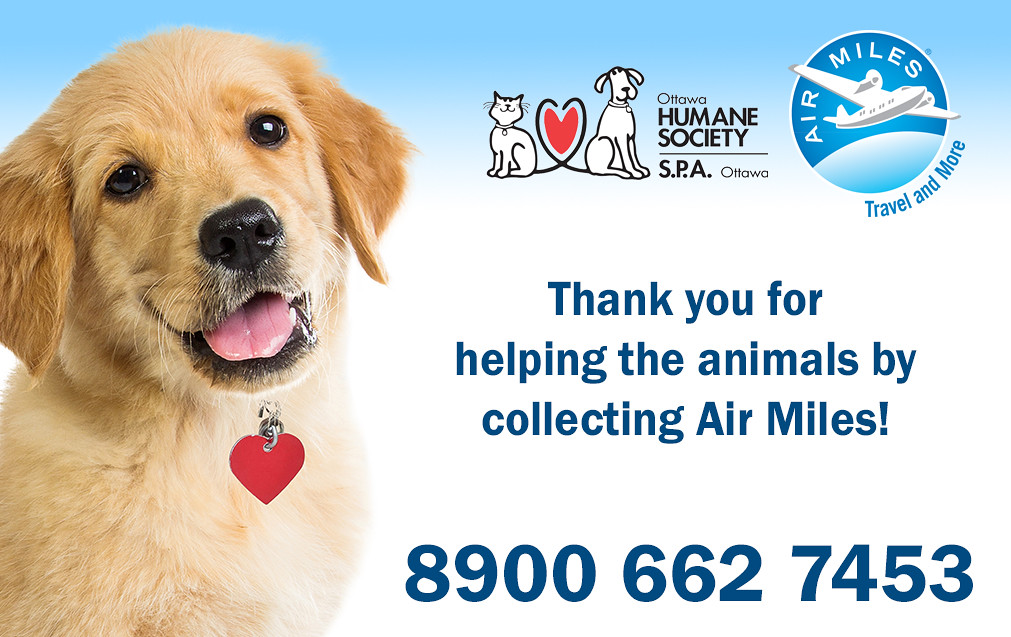 The Ottawa Humane Society uses Air Miles to purchase prizes that are raffled or sold — all to raise money to help abused and abandoned animals.
There are two ways for you to donate OHS Air Miles:
Shop and collect Miles using the OHS Air Miles card
Transfer your existing Miles to the OHS Air Miles account
OHS Air Miles Card
Contact events@ottawahumane.ca to have the OHS Air Miles card mailed to you. Once you have your card, you can shop and collect Miles for the animals. Its super easy, just give the cashier the OHS Air Miles Collector Number 8900 662 7453 and collect Miles for the animals!
Please note – Certain Air Miles supported stores may not accept the OHS Air Miles card.
Transfer Your Air Miles
You can donate your Miles directly to Ottawa's animals. Call the Air Miles Customer Care at 1-888-247-6453. You will need:
The OHS collector number: 8900 662 7453
The OHS recipient name: Lori Marcantonio (Ottawa Humane Society's Director: Development)
As per the Air Miles guidelines, Miles cannot be transferred online or through live chat. For more information, please visit: www.airmiles.ca/en/get-help/transfer-miles
How to Help
Gift by phone and tax receipts: Please call 613-725-3166 ext. 252 or send an email.