August 30, 2018
Who makes it all happen?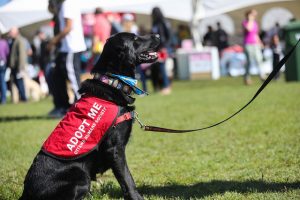 The OHS's annual Wiggle Waggle Walk and Run is in less than two weeks. This event is the OHS's biggest and most important fundraiser of the year.
The money you raise at the walk is essential. Some people think the OHS is publicly funded. We are not. We do have a contract with the City of Ottawa to temporarily house stray animals, but once a four-day period is up, the animals become ours and our financial responsibility. We care for them until they are ready for a new home. The medical costs fall to the OHS, along with all the costs of finding those forever homes. We have some revenue from fees, and from activities like birthday parties and camps, but fully 65 percent of our operating budget comes from you, our donors and our community.
How do we feed and care for close to 10,000 animals every year? How do we perform thousands of life saving surgeries? The Wiggle Waggle Walk and Run.
How can we change the future for Ottawa's animals through educating and building compassion in young people? How do we prevent future suffering by sterilizing thousands of animals in the community? Yep, the walk and run supports these too.
So, who makes it all happen? YOU. And you can do it by collecting pledges and walking or running on September 9.
Bruce Roney
President and CEO