December 10, 2015
What's Next? Constant Improvement in Animal Sheltering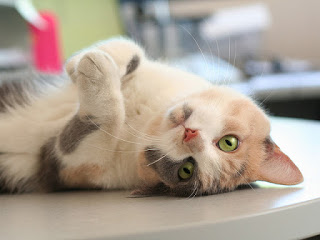 A new program introduced this year provides
in-house respite
to stressed shelter cats. Next up? Cat clicker training to
promote
adoptability…stay tuned!
As the year draws to a close, we look back, as always, on how we've done this year to help more of the animals that come into our care. Did we adopt out more dogs with special needs? Reunite more lost cats with their owners? Do more to meet the medical needs of sick and injured animals? Rescue more animals in distress?
It has been a good year. We have, I'm happy to report, been successful because we have a great team that is committed to constantly improving. From new daily care checklists to new behaviour intervention programs, best practices in animal sheltering are evolving rapidly. And while it is certainly challenging to keep up with it all, it's too important not to.
Our commitment to constant improvement has yielded some fantastic gains. Thanks to our new process tracking system, we have found ways to ensure 10,000 animals move through the shelter much more quickly. With these strategies, fewer animals are waiting for the next step in their care. The faster the animals move, the less likely they become stressed and become sick as a result. High volume, high quality spay/neuter surgery blocks are becoming more common as we increase training for veterinary technical staff. An improved adoption process has resulted in more transparent and more efficient adoptions. Most recently, improvements in our investigations processes, along with greater collaboration with Crown prosecutors, are anticipated to strengthen results in animal cruelty cases.
We are excited about the results that have come out of the past year. We're committed to building on what we have achieved and continuing to improve over the year ahead. In each area of animal care, we are already developing our plans to do even more next year. Knowing that we have the support of our community behind us, there is no end to what we can achieve for the animals.
Sharon Miko
OHS Deputy Director