September 27, 2018
Surviving the Tornadoes of 2018
Tornadoes are tricky, compared to other potentially disastrous weather. A tornado can be catastrophic if you or your home is hit, as we saw in Dunrobin. But if you are outside its direct path, then the effects are often no greater than any other severe rain storm. So, the problem is, what to do?  If you are on the coast and a hurricane is on its way, you leave. But a tornado warning generally doesn't justify an evacuation. So you prepare as best you can, and hope no one is hurt and it doesn't hit anything important.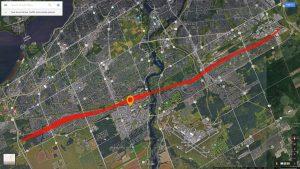 All of us at the Ottawa Humane Society were surprised to learn just how close we came to a direct hit. It turns out that the tornado passed only about 50 metres north of our West Hunt Club Shelter, according to a map created by local resident Kyle Robertson. That's more than a little too close for comfort for me, and I can't help but think about how horrible it might have been for the animals if the tornado were only that little bit closer.
Of course, we lost power along with 150,000 of our friends and neighbours. The weekend presented some challenges, but we put our emergency plan into action.
I am proud to report that every single one of our staff showed up to work and got down to caring for the animals despite treacherous travel to get here and the dark conditions in the shelter.  Many of the staff had lost power in their own homes and I had to go in search of lunches for them.
Because of the generosity of our donors, the OHS has an emergency generator that powers the clinic and a few other priority functions. The city kindly put us on the priority list for fuel delivery and help arrived just as we were getting down to fumes.
We think the shelter only suffered minor damage from the winds.
A lack of laundry and sterilization facilities was a big headache. We had to dispose of all the soiled linen and any other equipment that we were unable to sterilize, as after 48 hours, mould and bacterial growth prohibits thorough cleaning even once we got power back. We didn't have enough flashlights and lanterns and everything took longer in the dark.
Teamwork won out in the end, and no animals suffered in the ordeal.
Yesterday, we met to debrief our response and have 21 actions to take to make the next emergency go more smoothly, including buying more emergency equipment and finding out if we can connect more to our generator.
Now that the worst is over for us, like all of you who came through the event without tragedy, we have cast our minds and actions to those who really suffered. Today OHS staff are delivering pet food donated by Hill's, our shelter food sponsor, to our partners in Dunrobin and Arlington Woods for people with pets in the areas most affected.
In the end, we have concluded the same thing that many of you have: there are going to be a lot more of these, and it could have been a lot worse.
Bruce Roney
President and CEO