Emergencies
Get Help for a Sick or Injured Stray Animal or Wildlife
If an animal's life is in immediate distress as a result of cruelty or neglect, contact the police at 911. To report animal cruelty or neglect, call 1-833-9ANIMAL.
If you find a sick or injured stray animal with no owner in sight, or a wild animal, call the City of Ottawa at 311.
Find out what to do for non-urgent wildlife issues.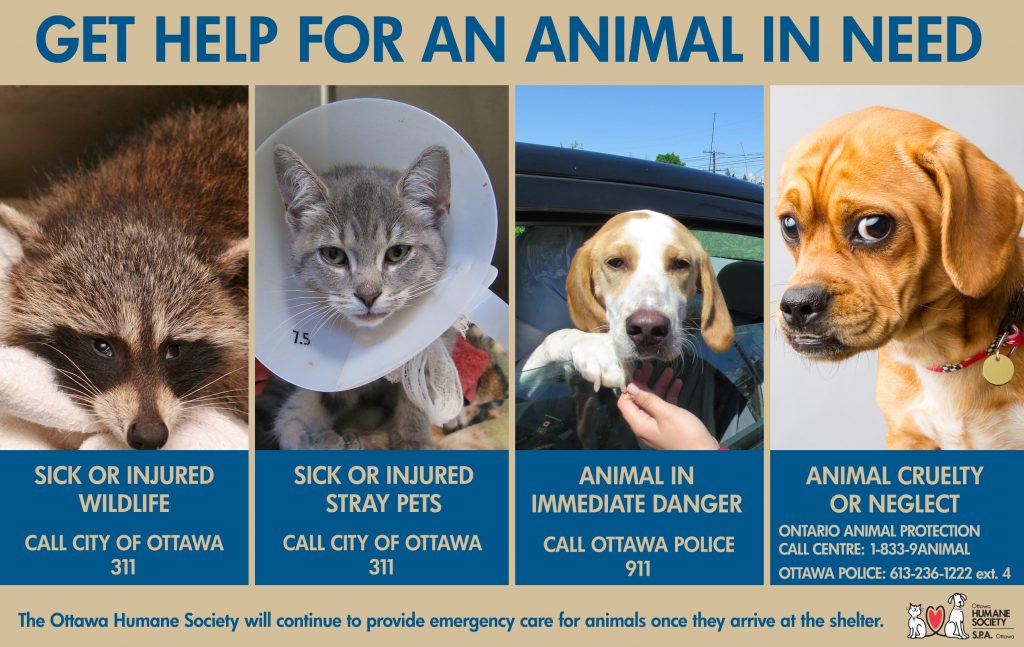 Once an animal is rescued, it is brought to the Ottawa Humane Society or a veterinary clinic (outside of regular OHS hours) for an exam and to be stabilized. If the animal has extensive injuries and is in immediate distress, and where the owner cannot be located within a reasonable amount of time, the animal may be humanely euthanized to prevent further suffering. All decisions on treatment and euthanasia are made in consultation with a veterinarian.
The OHS makes every attempt to find the owner — but please do your part by ensuring that your animal companions are identified with a microchip, collar and tag. If the animal's owner is located, the owner is required to reimburse the OHS for all expenses incurred in caring for their pet.
If you have been bitten or scratched by a stray animal, please seek immediate medical attention and contact the City of Ottawa at 311.