August 4, 2015
Interviews with Guinness: Jon Dunkerley and His Guide-dog, Lars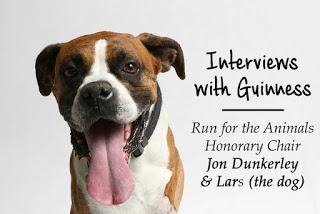 The Science Diet® Wiggle Waggle Walkathon and
Run for the Animals Spokesdog Guinness
Guinness sat down with Jon Dunkerley and his guide-dog Lars, Honorary Chair(s) of the OHS Run for the Animals to ask why the Run is so important to them.
Jon
: The
Run for the Animals
is important to me because it brings awareness to the Humane Society and all the hard work they do every single day to reduce the number of stray dogs and cats in our city. This organization does incredible work, and as a matter of fact my brother and sister adopted their cat from the OHS a number of years ago.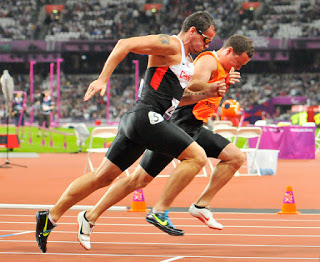 Jon Dunkerley
Lars: The Run for the Animals is important to me, Bar, because I get to meet many new people and share many doggy handshakes along the way. Plus, people get to ooh and aww over my shiny coat and playful big brown eyes, not to mention daddy lets me misbehave so I get to be a bad boy and run around with my leash in my mouth!
Guinness: Do you have/have you had any animal companions?
Jon
: I have had pet dogs in the past, and have had two seeing-eye dogs; my first, a big Yellow Lab named Luther, and now a little Black Lab fire cracker named Lars.
Lars: I have one companion animal. His name is Jon. Ha ha!
Guinness: Where is your favorite place in Ottawa to run?
Jon: My favorite place in Ottawa to run would be down the canal, especially in the summer when so many people are out enjoying the nice weather.
Lars: My favorite place to run is at Conroy Pit! Daddy and I go there sometimes and I run around like a maniac being a bad boy! I chew sticks, chase other doggies sometimes, and every once in a while I will even bellyflop in puddles!
Guinness: How can someone train for a 5K or 10K?
Jon: For somebody training for their first 5 or 10K run, I would suggest just keeping it simple and trying to get out the door every day for an easy run, gradually lengthening how long they run for until they can cover their race distance without stopping. Once you can do this, then you can start adding a little bit of faster pacing to a few of your runs a week.