November 26, 2015
Giving Back is the New Black: Black Friday, Cyber Monday and Giving Tuesday at the OHS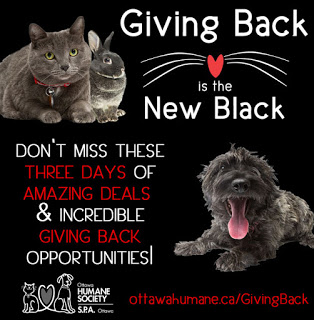 For the past decade or so, like most Canadians, I have been watching
the U.S. media reports on the Friday after their Thanksgiving — Black Friday, the busiest shopping day of the year — with some astonishment. The worst elements of it are what sticks in
my mind: the crowds, the line-ups, the people crushed, all to save a few bucks.
(Ok, maybe it's to save for a lot of
bucks, but still.) Like many Canadians,
I tend to adopt that vaguely superior attitude at the sight that I usually
reserve for bad reality television. It
all seems so un-Canadian.
As is typical, this cultural phenomenon has seeped northward and is becoming
entrenched in Canada, along with its younger cousin, Cyber Monday, the day the
deals move to online-shopping.
Partly obscured by all the hype is a third day: Giving Tuesday. Created in 2012 by the 92nd Street Y and the
United Nations Foundation as a response to the consumerism of the first two,
for me Giving Tuesday is the antithesis and the antidote. This is an idea I
like. Any reminder of our obligation to our community and the betterment of our
world is a good thing. Moreover, if the shopping can also help build a
community, then all the better.
In that spirit, the OHS is launching
Giving Back is the New Black
encompassing all three days
.
On Black Friday, you can shop at our
own Buddy and Belle Boutique, find some great deals, and know that our only
shareholders are the animals. On Cyber Monday, you can order some great
programs online, or arrange for some fantastic gift baskets for the pet members
of your family. And on Giving Tuesday, you can give the gift of a second chance
to a homeless, injured or abused animal, knowing that your gift will be doubled
by one of our most committed donors.
If it helps the animals, maybe we all both learn to like all the
hype after all.
Bruce Roney
Executive Director