Mobile Spay/Neuter Services
Mobile Spay/Neuter Services
We are currently experiencing high-demand for the OHS Mobile Spay/Neuter Services. Currently, appointments up to one month in advance, and are offered on a first come first served basis. If you are unable to request an appointment, our clinics are full. Please check our website regularly for appointment availability and further updates. Thank you for your patience.
Living with an unsterilized cat can present some challenges. To assist in dealing with potential behaviours your pet may displaying because of not being spayed/neutered, info sheets have been created to help you care for your cat.
Caring for and Living With an Intact Female Cat
Caring for and Living With an Intact Male Cat
FAQ

Q. What is the OHS Mobile Spay/Neuter Clinic?
A. The OHS Mobile Spay/Neuter Clinic is a mobile veterinary spay/neuter clinic that provides subsidized feline spay/neuter surgeries for low-income pet owners in targeted Ottawa neighbourhoods.
Q. Why has the OHS decided to launch the Mobile Spay/Neuter Clinic?
A. Our main goal is to address the problem of cat overpopulation in Ottawa. A second goal is to help preserve the human-animal bond by providing a service to help pets stay with their owners, rather than be surrendered to the OHS.
Q. Where will the OHS Mobile Spay/Neuter Clinic be operating?
A. Our mobile clinic operates in neighbourhoods where need for services is greatest, with residents who are at greatest risk of not being able to afford the service otherwise. We regularly visit community centres and arenas throughout the City of Ottawa.
Q. Who qualifies for services from the OHS Mobile Spay/Neuter Clinic?
A. To receive services from our clinic, clients must live in Ottawa and meet one or more of the following requirements:
Enrolment in ODSP or Ontario Works
Enrolment in the Resettlement Assistance Program
Receive the Guaranteed Income Supplement (for seniors)
Current enrolment in  Ontario Student Assistance Program (OSAP)
Annual Income below $30,000 (approximately $15 per hour; Notice of Assessment required)
Letter or referral from a social worker, social service agency, or qualified City of Ottawa employee
Q. What animals qualify for services from the OHS Mobile Spay/Neuter Clinic?
A. Our clinic provides services for healthy cats between four months and eight years of age. A maximum of two cats per client will be accepted each clinic day. We currently do not provide services for dogs.
Q. What are the costs for services?
A. We provide subsidized spay/neuter surgeries for $30 per cat. We also provide optional microchipping for $20 per cat, as well as complimentary nail trimming and ear cleaning (if needed).
Q. How does this service work?
A. Clients arrive with their animals at 8 a.m. at the scheduled clinic location for registration and arrive to pick up their animals at 3 p.m. that same day!
Q. How do I sign up?
A. Services from the OHS Mobile Spay/Neuter Clinic are by appointment only. Please click on the green button below to request an appointment.
Q. How is the OHS Mobile Spay/Neuter Clinic funded?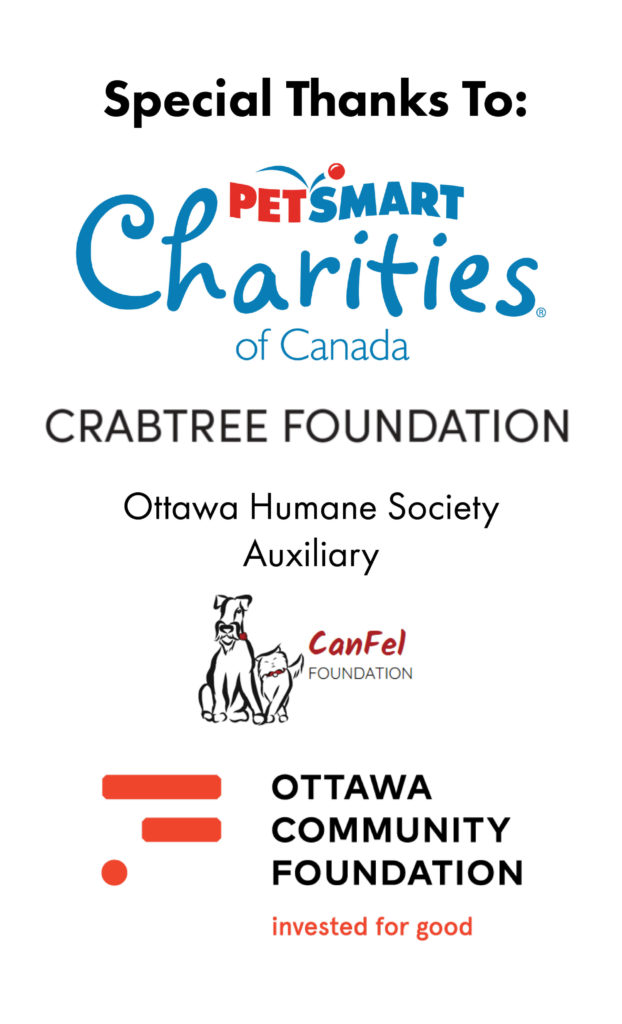 A. Vehicle and start-up costs have been largely funded by PetSmart Charities of Canada. Our other significant contributors include The Crabtree Foundation, the Ottawa Humane Society Auxiliary and the Canfel Foundation. However, ongoing operational costs rely on donations from our community.
For more information, please contact our client services department, and ext. 221 or clientservices@ottawahumane.ca.