June 20, 2019
Uncertainty for Animal Cruelty Investigations in Ontario: The Deadline Approaches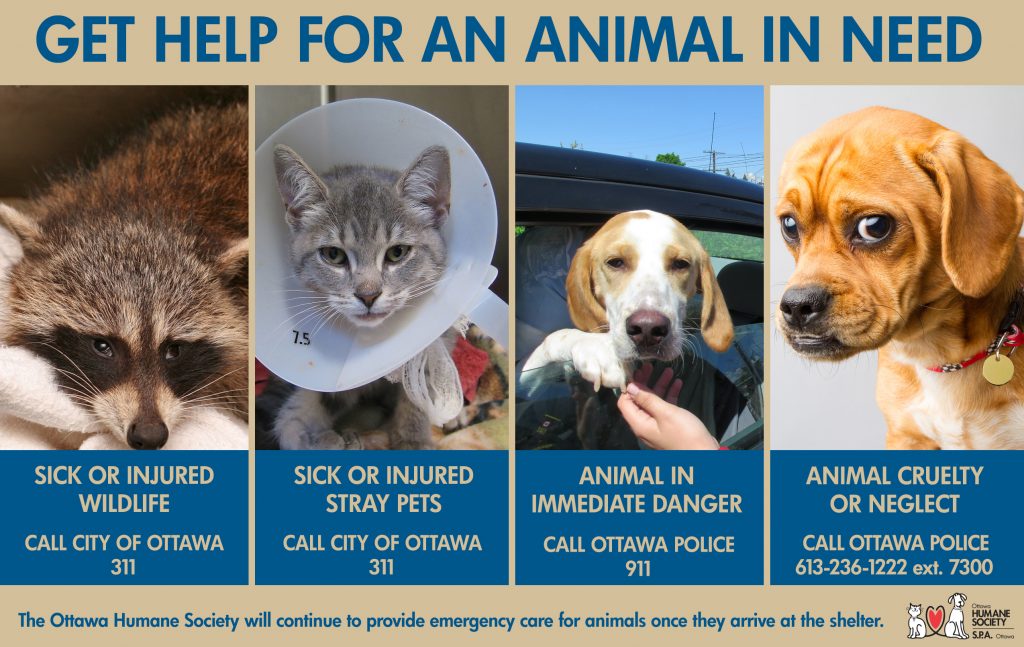 In March, with just a few weeks' notice, the Ontario Society for the Prevention of Cruelty to Animals (OSPCA) announced it would no longer be enforcing animal cruelty investigations in Ontario and set a hard deadline of June 28. Since the OSPCA refused to extend the deadline until new legislation could be introduced, that deadline is fast approaching.
While working with our partners to help government devise a new effective and sustainable system for the province for the long term, OHS staff has met with Ottawa Police Services and the city about the transition and worked to develop a training program for police in order to assist them to be ready for next week's changeover, and to get the word out about who to call in an animal emergency.
The OHS and police are also working to develop a seamless system whereby neglected and abused animals will enter the care of the OHS, while police undertake investigations and enforcement.
In some communities, local humane societies informed the Solicitor General that they would keep their investigations services in place at least during the transition to a new model next year. Stunningly, the OSPCA tried to block this. In a media release, the Solicitor General is quoted as saying, "…the OSPCA has attempted to block these helpful affiliates by contravening existing legislation. This is extremely disappointing. Frankly, it puts animals in harm's way."  
To add to our incredulity, former OSPCA chair, Rob Godfrey, penned an editorial in the Toronto Sun, alleging an explanation: the OSPCA's interest is in money and power, not animal welfare.
In order to work around the OSPCA, the Solicitor General took the extraordinary action of introducing amendments to the OSPCA Act to affect only one change: keep the OSPCA out of the system and allow direct appointment of investigators by the Minister's staff. The legislature passed the amendments in days with the support of all parties.
So, on June 28, some Ontario communities will continue to be served by their local humane societies under the authority of the Minister. In Ottawa, local police will investigate animal cruelty and neglect and animals will be cared for by the OHS.
Help us get the word out by sharing the "who to call" graphic in this article.
Bruce Roney
President and CEO