June 9, 2016
They Need a Special Place in Your Heart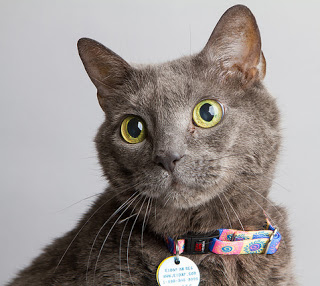 This month, get to know cats like Likos, the pet behind the
special needs label.
Our June adoption promotion is Behind the Label. It's our play on Behind the Music from the cable music station VH1. It is all about finding homes for special needs cats. We hope that you will look beyond the term special needs and see the real cat behind the label.
Animals at the OHS are special needs for a lot of reasons. They are generally relatively minor: a heart murmur with no discernible symptoms, arthritis, allergies which require a special diet, or another health issue that a loving and committed family would accept.
To promote the special ones, we reduce our usual adoption fee by half, and in June we are offering the equivalent of a first free vet visit by waiving the other half of the usual fee.
Gracie — my Siamese who must be obeyed — was special needs, owing to her age (10) and her smaller than expected kidneys. For me, this was a no-brainer. I wanted a cat that others might not. I didn't want a kitten: too much energy, too many unknowns. I wanted an adult that had a fully-formed personality, so I would know that we would get along. The fact that I wasn't allergic to her as I am with many cats helped a lot too. For all this, I was willing — happy — to take on the medical care that she may need sooner than other cats. In cat years, Gracie is late middle-aged. Here is the thing: so am I. And I think we both still have a lot to give.
Of course, special needs animals are only adoptable if our community will adopt them. We can do the pre-adoption medical work, we can promote the heck out of them, but at the end of the day, it is only you who can provide them a home. And when you do give them a home, it really isn't the animal that's special, it's you.
Bruce Roney
Executive Director