June 15, 2016
The Evidence is in: The Benefits of Taking Pets to Work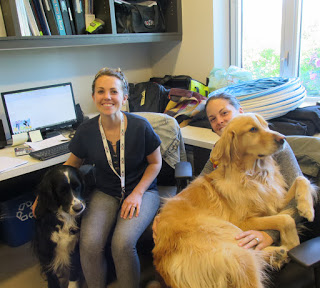 OHS humane education staff with their pets.
I'm sorry I left this article so late. Friday, June 24 is Take Your Pet to Work Day. If you aren't as lucky as we are at the OHS, and are not yet able to take your pet to work, it may be a bit late to convince your boss that it's a good idea. If it is too late for this year, maybe you can use the event as a conversation-opener to prepare for next year.
Taking a pet to work is about much more than saving employees on the cost of doggy day care. A 2014 Jordan Smith article in Inc. magazine outlined the many benefits of pets in the workplace: increased productivity, communication, and morale, and improvement in the overall health and well-being of employees.
The article cites several studies in support of the benefits of a pet-friendly workplace, along with some U.S. corporations that have become true believers.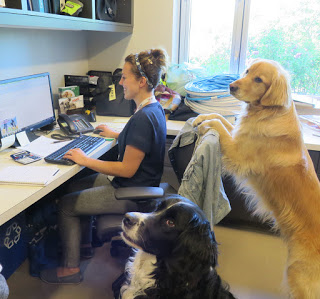 The companies named found that employees found long working hours more tolerable when they had their pets — or even their co-worker's pets — by their side. They found that pets promoted staff interactions with colleagues that they otherwise would not have had, leading to a more collaborative workplace. Stress reduction for employees was identified by both studies and the experiences of employers. According to one, "If you are in a position where something is stressful, seeing that wagging tail and puppy smile brightens the day — it can turn around the whole environment."
The research cited is serious. No less than the eminent U.S. Centre for Disease Control reports that pets can reduce not only stress and loneliness, but also blood pressure, cholesterol and triglyceride levels.
Remember, even the most pet-friendly workplaces like the OHS need to know how everything is going to work in advance. It is important to have rules, so that, for example, those few that aren't keen on your sweet little fur bundle aren't disturbed, and that no one feeds him without your permission.
So, here is your chance. If you have always thought that bringing pets to your workplace was a good idea, now armed with studies and anecdotal experiences, why not mark next June 23 as your personal D-Day?
Bruce Roney
Executive Director