Sonia's Story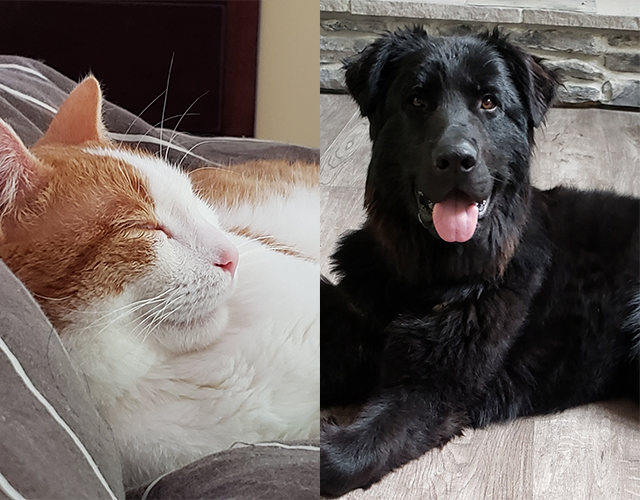 We are fortunate for the incredible support from our dedicated foster volunteers. Sonia is one of those amazing volunteers. Sonia fosters any animal in need — from small animals, to dogs, to cats. She is always willing to help large dogs — especially those with behavioural issues. Animals with complex medical or behavioural obstacles often struggle to find a foster home to meet their needs. Sonia and volunteers just like her give these animals the loving care and home environment that is so important for the animal's progress.
We asked Sonia to reflect on her life-saving work, and here's what she shared:
"I give my time to the OHS foster program because it saves lives, helps the animals find their balance faster (in a home environment vs. the shelter) and allows the OHS to better match animals with their forever family. I love animals and have always been able to connect with them. I continuously learn with each new foster, the free workshops and the guidance/training instructions provided by the staff. And last but not least, the mental health benefits have been significant for me for various reasons."
We also asked her to share her most rewarding experience:
"I've had several! Each animal I welcome into my home and my pack (two dogs/two cats/one husband) leaves with a piece of my heart. Admittedly, the fosters with behavioural issues that the OHS trust and match me up with, although they may require more patience, time and effort, can be even more rewarding, because the transformations are so significant. Helping each foster achieve the "ready for adoption" status is the ultimate objective and reward. I get to know each animal's personality, watch them come out of their shell, blossom and show the world they deserve to be understood and given another chance!
If you love animals, have the room, time and want to make a difference one life at a time, the OHS foster program is an amazing way to make all of the above happen! You have all the help and support from the dedicated OHS staff every step of the way. You gain skills and confidence working and caring for animals, especially those with behavioural issues, using a fear-free approach and training techniques. Fostering changes the animal's life and may change yours too! And finally, another great reason to join the foster program is the fact that we need more goodness and happy endings in this world, and fostering provides plenty!" 
Foster volunteer support has changed how the OHS operates — we are sending more animals into loving foster homes than ever before. After the public health crisis, we hope to continue sending more animals into foster care. For this to work, we need your help.
Even with the hundreds of foster families already supporting this life-saving program, we still need more help — especially for adult cats and adult dogs with known behavioural issues. If you have the time and the love to share with an animal in need, apply now.
Please share with your network — we need all of the help we can get as this amazing program continues to grow!