March 26, 2015
Great News for Elephants
Some
of the best news I hear comes through Facebook. Just last week, one of my
friends posted the news that Ringling Bros. would be phasing out elephants from
its performances by 2018.
The
company cited "a mood shift among our consumers." It also cited
the difficulty of fighting local legislation that would affect its shows.
The local legislation it is are referring to ranges from outright bans to the
use of the notorious bullhook, a hooked tool commonly inserted in
elephants' skin to train and corral them.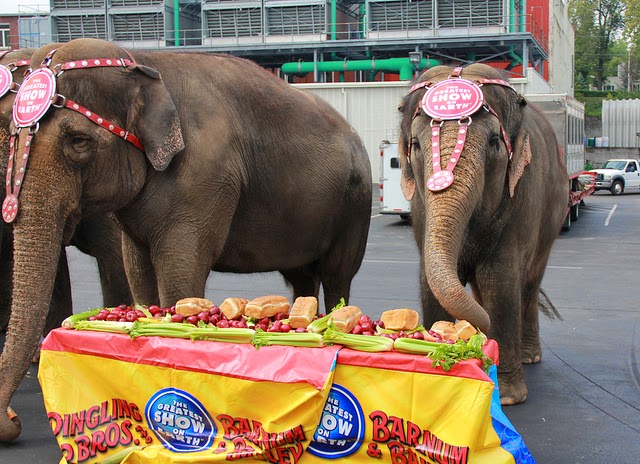 Ringling Bros. elephants
In
the company's statement, its CEO is quoted, "This decision was not easy,
but it is in the best interest of our company, our elephants and our
customers." The fact that the elephants' interests were cited is not
only new, but a tacit admission that the animals' welfare was not served by the
company's practices.
The
OHS has been long opposed to captive wild animals in entertainment. In
2002, the OHS lobbied city council to ban elephants and other captive wild
animals in circuses and other entertainment. The city instead instituted
a licensing regime. The OHS responded that the city should not license
animal cruelty.
Today,
only the annual Shrine Circus is a regular fixture in Ottawa. There is no
legislation on the horizon. But in the end, money talks.It spoke to Ringling
Bros. and it's taking action.
You
can make your money talk by not supporting the Shrine or any circus.
For
more information, a summary of the OHS's concerns can be
found here
.
To read about the Ringling Bros. decision,
click
here
.
To
read about how Mexico is expected to ban circus animals,
click here
.
Bruce
Roney
Executive
Director