April 10, 2015
We're Celebrating Our Ottawa Humane Society Volunteers by Saying Thank You!
Volunteers enrich the quality of life for the animals
Every year, organizations
across Canada mark National Volunteer Week to recognize, celebrate and thank Canada's
13.3 million-plus volunteers.
This year, National Volunteer Week takes place April 12-18, and the
volunteer department is busy planning workshops, activities, a luncheon, and
more, to celebrate our volunteers. As part of my event plan, I am challenging
my colleagues to consider how our volunteers directly impact their work and
help them complete their goals and objectives. When I sat back and pondered
this question myself, it wasn't so much what do volunteers do for the OHS, it
was what don't they do?
Volunteers touch almost everything we accomplish at the OHS. You might
be surprised to know that the OHS is supported by over 800 volunteers, and the
number is growing every month. With over 800 volunteers, it's not hard to see
that volunteers are the lifeblood
of the OHS. Their gift of time, dedication and enthusiasm allows us to continue
to provide care for more than 10,000 animals each year, and accomplish so much
for our community.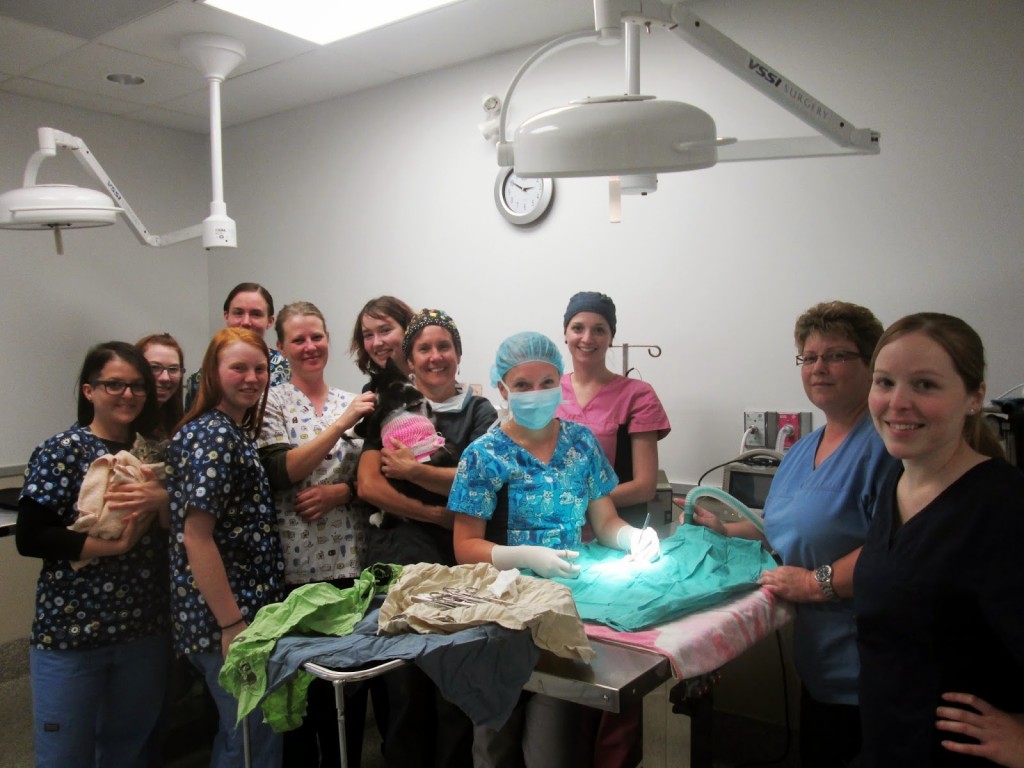 Volunteer vet team from Merivale Cat Hospital
Our
volunteers give their time to more than 26 programs and in 2014, gave almost
60,000 hours of their time to help the animals in our care. Volunteers visit 78
institutions in our community and bring joy and happiness through our
brightening lives program; they support our retail boutique; they pick-up and
drop-off coin boxes for donations throughout the city; they call our donors to
thank them for their support; they help enrich the qualities of lives for dogs,
cats and small animals residing at the shelter; they help with the planning and
delivery of events; they bring animals into their home and provide care for the
animal until they are ready to be adopted; they groom our animals; they drop
off adopted animals to their new forever families on Christmas mornings; they
process donations; they help with administrative tasks; they educate the public
in French and English about animal care
and welfare; they save the lives of
vulnerable kittens; they help at-risk youth to change their lives through
training shelter dogs; they take photos to help animals find their new
families; they help provide lifesaving medical treatments; they help govern the
OHS, and this is just the tip of the iceberg!
Volunteers are the driving force behind giving so many animals a second
chance, and for making our community a more humane place for all. Without their
support, there would be no Ottawa Humane Society.
Please join me and everyone at the OHS in thanking the over 800 men and
women that make the work of the OHS possible this National Volunteer
Appreciation Week!
Ashley Britton
Manager: Volunteers