April 23, 2015
Take Your Pet to the Vet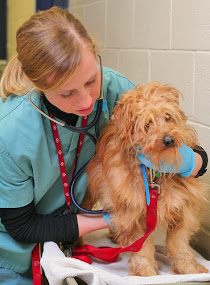 Regular checkups are important.
Of course, we love our pets. We know it is our responsibility to take care of them – to ensure they are provided with all of their daily needs – but I think many of us also want to go beyond the basics and give back to our pets for the joy and companionship they bring to our lives. Nowadays, you may bring your four-legged family member to animal daycares, pet spas, off-leash parks, training classes, and a variety of animal-friendly events. But let's not forget the fundamentals: Do you take your pet to the vet?
Your pet should visit a veterinarian at least once a year, for his annual checkup and vaccinations and more frequently if he experiences sudden or ongoing problems in health or behaviour. Yet, Canada's Pet Wellness Report, produced by the Canadian Veterinary Medical Association, indicates that only 77 per cent of dog owners and a mere 46 per cent of cat owners in Canada have taken their pet to the vet in the last 12 months. The report notes that only about 10 per cent of pet owners consider regular veterinary checkups to be one of the most important steps they can take to increase the length of their pets' lives.
Veterinarians are experts and an excellent resource for providing the optimum life-long health and happiness of your pet. Your vet plays an integral role in ensuring your pet receives important exams and treatments, including the following: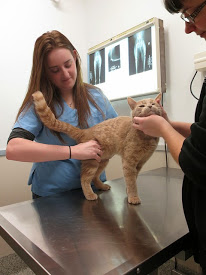 A vet will help your pet stay healthy.
General Health
Regular checkups are the best way to help prevent health problems in your pet. Your vet will examine your pet and provide you with important information and tips on topics such as weight control and dental care.
Vaccinations
Keeping your pet's vaccinations up to date is another important way to prevent disease and health problems in your pet, especially as many of us these days enjoy taking our pets out to parks and into the community for events and activities where disease can linger and spread. Remember, rabies vaccinations are required by law.
Sterilization
The OHS receives and cares for more than 6,000 cats and 2,000 dogs each year. Having your pet spayed or neutered is the best way you can play a part in controlling the pet population and helping reduce the number of homeless pets in our community. And, sterilization benefits your pet's long-term health!
Parasite Control
Your veterinarian is your go-to resource for prevention and treatment of fleas, ticks, and worms. Many of these parasites can live year-round in your home and can transmit dangerous diseases to your pet. This is another area in which your vet can help you to act preventatively so that you may never have to deal with these unpleasant parasites.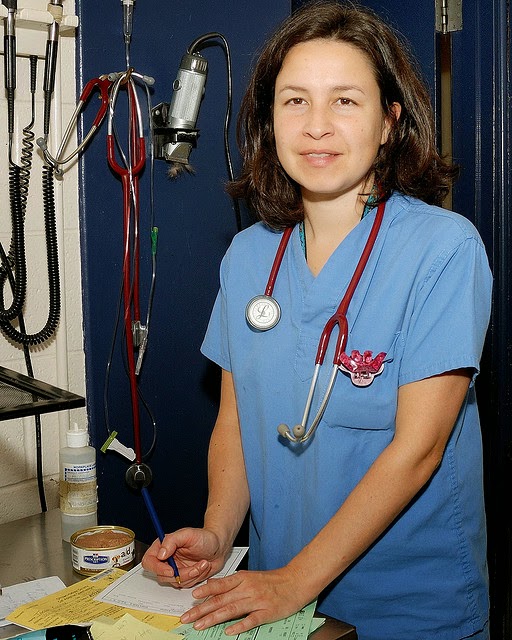 Say thank you on World Veterinary Day.
Behaviour
Always take the time to chat with your vet about any unusual or challenging behaviour from your pet. Your vet will be equipped with tips and advice regarding what is normal behaviour and what you can do to be proactive in ending any misbehaviours before they get worse.
April 25 is World Veterinary Day. If your pet is due for a checkup, why not make a call to your vet to book your next appointment and say thank you for all the work veterinarians do for our pets? Although it may not seem as exciting or glamorous as taking Fluffy to the spa, a trip to the veterinarian is one of the best things you can do for the long-term health and happiness of your pet.
Andrea Tatarski,
Coordinator: Humane Education