Sonia's Foster Journey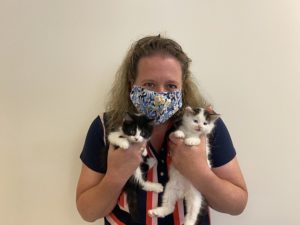 What made you initially interested in the foster program?
I love all animals so I volunteered at a local sanctuary, but I felt I could do more than care for the animals at fundraising events on weekends. So, when a post from the Ottawa Humane Society about the foster volunteer program appeared in my social media news feed, I read more, and sent in my application! I've been fostering for four years now, and it's what I was meant to do. My only regret is not volunteering sooner!
What kind of training did you receive before bringing an animal home?
Initially, you receive the fostering program orientation session where we learn what is expected from you as a foster volunteer as well as some introductory training and  guidance to set you up for success. Additional training, day-to-day support, and free behavioural workshops are regularly offered to foster volunteers to further improve our skills and knowledge as we care for the animals.
What kind of ongoing support does the OHS offer you and the animals in your care?
The Foster department has continuously provided me with excellent support by answering my questions either by email or phone as quickly as possible, even during their busiest times and heavy workloads. I've asked many questions over the years and the staff have always been responsive. Staff are always friendly and patient with the foster volunteers. Your time, care and love for the animals is appreciated and regularly acknowledged by the OHS and staff.
What do you find most rewarding about being a foster volunteer?
Being able to care for the animals and knowing that by providing them with a safe, comfortable, caring and loving environment, I am helping them get ready for their next step which is finding a forever home!
As well, since I've started fostering, I have acquired new skills and furthered my knowledge and experience in caring for and training animals. Being able to work with animals with behavioural issues or to care for those with medical issues, you have the privilege of being part of their transformation and recovery. As a foster volunteer, you are an integral part of that animal's experience in the shelter.
What was one of the most memorable animals you fostered?
I've been asked this before and I can never give a straight answer. I've fostered more than 70 animals and they've all left a paw print on my heart. There was Rolly Polly and news-worthy Jake, but Oreo is next on the list. Oreo was a nine-month-old beagle who was recovering from hip surgery. I fostered her for a few months and she was a total lovebug! Oreo was full of puppy energy, loved to snuggle, got along great with both my dogs and cats. She was just a sweet, little girl who stole our hearts and made us laugh daily. Oreo-e-o-e-o!!!
What would you say to someone who was thinking about joining the foster program?
Just do it! If you love animals; if you want to make a difference one life at a time; if you have room in your heart, home and schedule to care for an animal in need; if you want be to an animal hero in your community, the foster program is an excellent choice!
The more foster volunteers the OHS has, the less time the animals have to wait in the shelter. Will you step up and be an animal hero? It may change your heart and your life too!