November 10, 2022
Simon the Cat: War Hero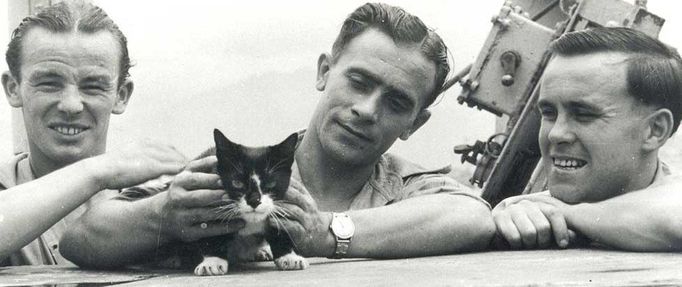 Simon, a tuxedo cat, was found wandering the dockyards of Hong Kong in 1948 by Seaman George Hickinbottom, a crew member of the British frigate HMS Amethyst. Simon was very undernourished and unwell, so the young sailor smuggled the cat onto the ship. The crew and officers were happy to have Simon onboard, especially because he was excellent at catching rats on the ship. Eventually, Simon became a mascot for the crew.
Shortly after, in a mission to travel up the Yangtze River to Nanjing to replace a duty ship, the HMS Amethyst faced a field gun battery that opened fire on the frigate. One of the first rounds tore through the captain's cabin, seriously wounding Simon and the ship's commander.
Simon crawled on deck, and was rushed to the medical bay where the ship's surviving medical staff cleaned his burns and removed four pieces of shrapnel. Simon was not expected to last the night. Miraculously, Simon did survive, and eventually returned to his former duties. While anchored in the river, rats overran the ship, and Simon took on the task of removing them with gusto, as well as raising the morale of the sailors.
Following the ship's escape from the Yangtze, Simon became an instant celebrity in British and world news. He was presented with the Dickin Medal — commonly referred to as the animal's Victoria Cross. Simon is the only cat to win the award. At every port Amethyst stopped at on its route home, Simon was presented with honour, and a special welcome was made for him when the ship returned to Plymouth, but like all animals entering the UK, Simon was held in quarantine.
Because of his war wounds, Simon contracted a virus while quarantined, and despite the efforts of medical staff and thousands of well-wishers, he died on Nov. 28, 1949. Hundreds, including the entire crew of the HMS Amethyst, attended his funeral.
Simon's story is just one of many about animals serving during wartime. This Remembrance Day, along with our human heroes, let's remember animal heroes like Simon.
Bruce Roney
President & CEO