September 4, 2015
Interviews With Guinness: Chief Bordeleau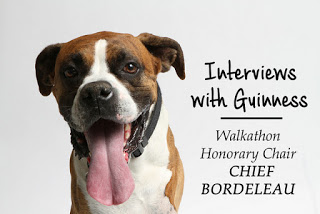 The Science Diet® Wiggle Waggle Walkathon and
Run for the Animals Spokesdog Guinness
Guinness sat down with Chief Bordeleau, Ottawa Police Services Chief of Police and the Science Diet® Wiggle Waggle Walkathon honorary chair, to see why being involved with the Walk is so important to him!
Guinness: Thank you Chief Bordeleau for sitting with me today. To begin, why is the 2015 Science Diet Wiggle Waggle Walkathon important to you?
Chief Bordeleau: Because of the programs the OHS runs within the Ottawa community. The OHS and the OPS have a strong partnership in supporting our community through its LEAD and youth program. The OHS LEAD program directly assists youth at risk. This dog-training initiative promotes the animal-human bond while encouraging youth participants to develop personal responsibility, empathy, self-esteem and compassion towards all living beings.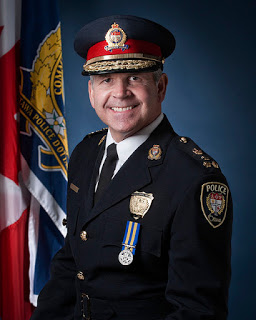 Chief Bordeleau
Guinness: Do you have/have had any animal companions before?
Chief Bordeleau: I had a dog as a teenager – a "Spoodle' names Spunky. We now have a Miniature Schnauzer – Pepper.
Guinness: Where is your favorite place in Ottawa to walk?
Chief Bordeleau: Conroy Pit – steps away from our home.
Guinness: Thank you so much for taking the time to speak with me today, Chief Bordeleau. Woof!