Give Animals a Voice When You Vote
With the federal election just weeks away, you can help make sure that animals count. Over the past few years, our voice has made a difference! We have achieved strengthening of laws for bestiality and animal fighting offences, the banning of the importation of cetaceans and breeding of cetaceans in captivity, and more.
Sadly though, Canada still lags internationally on many fronts, leaving too many animals vulnerable to unacceptable suffering. We need our federal government to support policies that will improve animal welfare in Canada, and end this suffering.
What can you do? Educate yourself on animal welfare issues. Attend local debates, and ask questions. Doing so not only raises the animal welfare topic with candidates, it gets others present educated on animal welfare issues.
Here are three simple questions to ask your candidates:
What are the key points in your party platform on animal welfare, and how will you support these issues?
What steps will you take to update the Criminal Code of Canada to better protect animals, and to ensure that funding is in place to properly enforce the Code?
Canada's animal transportation regulations are decades old and sorely behind international standards. What steps will you take to update regulations, to provide greater protection for farm animals in transport?
Most importantly, let your local candidates know that animal welfare is very important to you. Together, we can build a better tomorrow for Canada's animals.
Unintended Consequences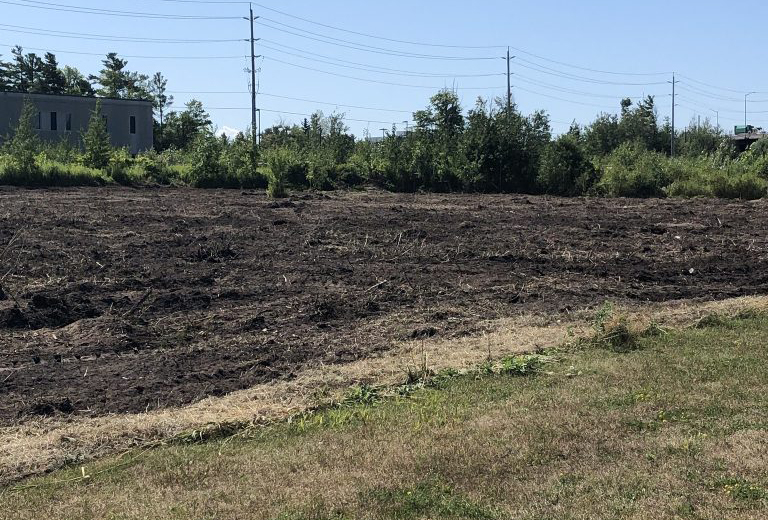 This past August, a bulldozer-like machine ripped through the land neighbouring the Ottawa Humane Society shelter on West Hunt Club. Staff and volunteers alike stood aghast watching the thing tear down hundreds of small trees and shrubs, leaving the land barren and brown. Everyone's mind was on the same thing: this is a habitat. The land is likely home to dozens of species, and hundreds of individual animals, all displaced—at best. Likely dozens were killed in the clearing process.
This land clearing happens every few years because of City of Ottawa by-law number 2009-200: A by-law of the City of Ottawa to protect trees on private property in the urban area. This piece of city legislation prohibits cutting down urban trees with a diameter of greater than ten centimetres without a permit and a fee.
This summer also saw Brazil's new government approve contracts for developers in the Amazon with few restrictions or regulations, ultimately causing a catastrophic forest fire. The Amazon is often called the lungs of the earth, helping produce massive amounts of oxygen, sustaining thousands of species of animals and supporting a large Indigenous population. Its destruction at the hands of careless governments is a travesty.
A lot of horrendous things that happen to wild animals are just unintended consequences: dumping garbage in the oceans, cutting down old growth forests, moving tankers through whale habitats. Few activities are contrived to hurt animals. But they do. And it's time to look at our actions as people, as a community, a country and a world and intentionally help animals, rather than unintentionally causing their suffering and death.
More Homes Needed to Give Animals Second Chances
As the OHS works harder to provide a second chance to more animals, a new crisis is emerging: finding enough special homes for the increased number of more vulnerable animals that are being saved.
While fluffy kittens and playful puppies are adopted at lightning speed, longer-stay animals--typically those with manageable medical or behavioural conditions--face longer waits to find their forever homes. The OHS is specifically concerned about a small but growing group of animals that is getting overlooked--adoptable animals waiting in temporary foster homes, because the busy environment of the OHS's on- and off-site adoption locations is often just too stressful for them.
Currently, several animals have been in temporary foster care for well over a year while they wait to find new homes. Most have required resources that in the past, would have been beyond OHS's ability to provide. Thanks to new intervention programs and life-saving initiatives, more of these animals are becoming adoptable. Now, they just need homes. While committed foster volunteers are caring for these animals, keeping them in foster for endless months is impacting the availability of foster homes for other animals in need of immediate intervention while they recover from illness or receive other care to help them become adoptable.
The OHS has recently expanded its efforts to promote animals available for adoption from foster homes. Several special adoption events have taken place at OHS Pet Adoption Locations, where "adopt from foster" cats have been brought in to meet potential adopters. The OHS has also increased social media efforts, including a recent social media takeover day for its longest-stay cat, Charlie, who after 15 months is still waiting to be adopted. The list of "adopt from foster" animals is currently averaging about a dozen or so animals, which results in a significant cost when factoring in each animal's length of stay. The OHS will keep every adoptable animal for as long as it takes to find them a new home.
The OHS is appealing to the community to support these animals by making a donation cover costs for their care, and by sharing profiles of our adoptable animals, and more specifically, of its many long-term residents who are most in need of a new home.
Augustine (A214701)
My name is Augustine. I'm a seven-year-old spayed female tuxedo cat who has lots of love to give... and I'm oh-so-cute! Sadly, I'm homeless, a bit shy and I have special needs. I also have been waiting to be adopted for more than a year! Read my story and learn how you can help special animals like me!

Read more»
Be a hero for an animal today....
Woof woof! Penny here, spokesdog for the 2019 Wiggle Waggle Walk & Run, presented by Hill's Pet Nutrition. I would like to say a huge THANK YOU to everyone who participated in and donated to this year's event! Together we have raised desperately needed funds for Ottawa's animals. The animals are so fortunate to have such a caring community! It would not be PAW-sible without you.
Still have a donation to make? Visit ottawahumane.ca/walkrun. Can't wait to see you next year!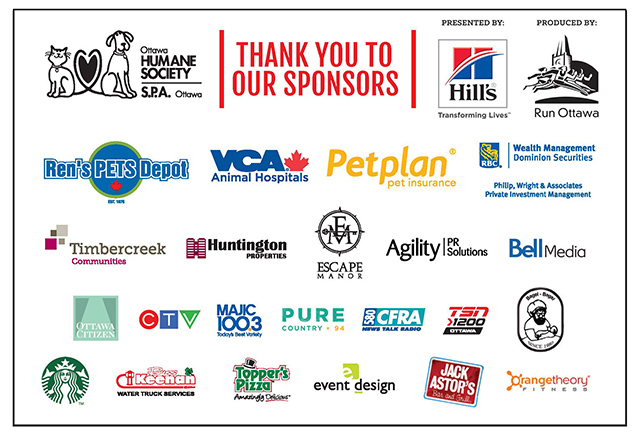 Read it now: 2018/19 OHS Annual Report is available!
Curious how many animals found fur-ever homes last year? How about the success of microchip clinics? The 2018/19 OHS Annual Report is now available and filled with lifesaving statistics from the past year.

Read it here»