Animal Protection Update
Since the OSPCA abruptly abandoned its role to protect animals in Ontario from cruelty and neglect at the end of June, the OHS has been working closely with Ottawa Police Services and Ottawa Bylaw Services to ensure that animals in Ottawa are protected.
The short time frame has meant the process has been more chaotic than any of us would like, but all three organizations have been working diligently and in good faith to perform our respective roles.
The Ministry of the Solicitor General made a sunny announcement on June 28 to say that no animal would fall through the cracks, but the reality has not been so sunny, as it took many weeks for the Ministry to put any resources on the ground in Ottawa at all, and efforts are still lacking in a number of areas. Communication from the Ministry has been poor and the result has been that OHS efforts to tell our community who to contact for an animal in distress have been confusing.
We now are able to provide definitive information in the graphic above, valid until at least January, when we are told new animal welfare legislation will come into effect.
Unwanted and Thrown Away
A Good Samaritan found a kitten sealed in a plastic garbage bag last month and brought her to the Ottawa Humane Society. It's horrifying that someone would do this to a defenceless animal.
The five-week-old kitten, named Buttercup by OHS staff, was discovered after she was heard meowing for help. She was found inside the bag that had been dumped on the side of a road, the witness told OHS staff.
Other than being dirty and a little too young to be weaned, she arrived in good health, the OHS veterinarian said. Buttercup is currently in the care of a loving and experienced foster volunteer while she receives the TLC she needs before she's strong enough to be adopted.
There are hundreds of cats and kittens in our care right now with more arriving every day in need of a second chance. Please make your donation today to help Buttercup and other vulnerable kittens and cats like her who need a second chance this summer.
Hoarding Case is a Reminder to be Vigilant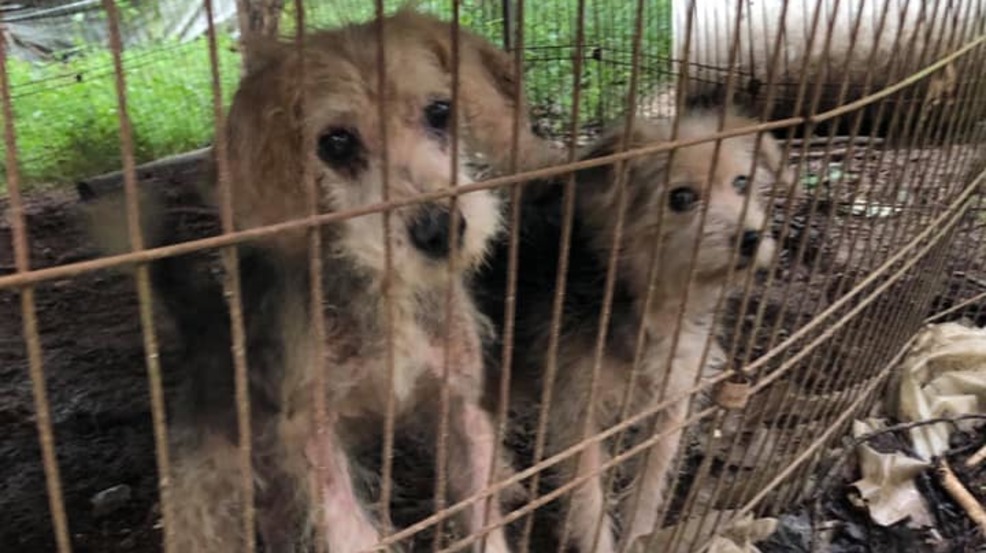 Two weeks ago, a woman in Bledsoe County, Tennessee was arrested after 200 severely neglected dogs and cats were found in her home. Eyewitnesses were shocked to see the conditions inside the home with 40-plus dogs in the house, kept in up to six inches of their own feces, with cages on top of cages. Many more were living in equally appalling conditions outdoors.
Couldn't happen here? It has. Just not very recently. This is a classic animal hoarding situation.
Researcher Elisa Arrienti Ferreira has studied animal hoarding and recognizes it as different from other forms of hoarding, "They think they are like missionaries, that they are saving these [animals'] lives … and that they are the only ones who can care for them."
So typically, animal hoarders see themselves as rescuers, despite the often horrendous conditions in which their animals live. Some even set themselves up as a formal "rescue" organization, though rarely animals are ever rehomed. Interestingly, Bledsoe County has no animal shelter. This vacuum may have reinforced the perpetrator's belief that she alone could rescue these animals.
What can you do?
As with breeders, always demand to see the conditions the animals live in before adopting.
Do a little research before donating to a rescue. How long have they been in operation? Are they a registered charity? Do they have a board of directors? Do they have an association with a veterinarian?
Always report your suspicions about someone who you believe may be an animal hoarder.
Update: Mia and Peanut
Mia:
Mia has had surgery by an orthopedic surgeon and is recovering in an OHS foster home. She's coming frequently to the OHS for extensive post-operative care but there is some concern that she may have sustained permanent damage from the accident that the surgery wasn't able to fix. We're continuing to consult with the orthopedic surgeon and monitoring her closely, and we have a very extensive care plan in place while we determine next steps. Read Mia's story and make a donation to help her heal.
Peanut: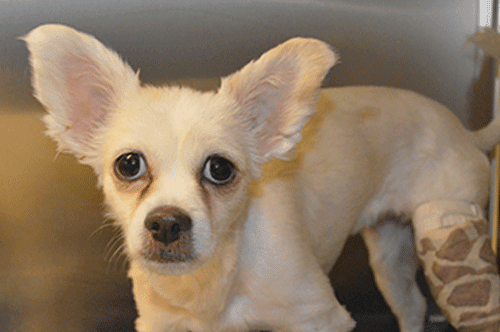 Happy to report that she's doing very well! We consulted with a surgeon who advised that casting Peanut's leg would be an option. So we casted her leg, and she's using the casted leg well—carrying it when she walks! She still needs a lot of veterinary care. We'll recast her leg weekly and will repeat X-rays in a couple of weeks; we also know she'll need dental surgery. Read Peanut's story and make a donation to help her heal.
Volunteer Dog Trainers Needed
Professionally-certified dog trainers are needed today to help more dogs overcome known behavioural issues. The volunteer department is seeking positive-reinforcement trainers to teach our dogs the manners they need to be well-behaved canine citizens. Are you up for the challenge? Please click here to learn more today!
Be a hero for an animal today....
Ottawa's Animals Need YOU!
The 2019 Wiggle Waggle Walk & Run presented by Hill's Pet Nutrition is just around the corner! Join us on Sunday, September 8 as we walk and run to save animal lives! Pre-registration begins tonight at the Ottawa Humane Society! You can pre-register on September 5 and 6 in the OHS Education Centre from 5 to 8 p.m.
If procrastination is your middle name… your absolute last chance to register will be onsite Sunday, September 8 in the registration tent at Lansdowne Park. The tent will open at 8 a.m. sharp!
Space is limited, so don't delay, make your way down to the OHS today and help save animal lives!