Advocating for animals during COVID-19... read more
If you do not see the full page with images, please click here.
The New Normal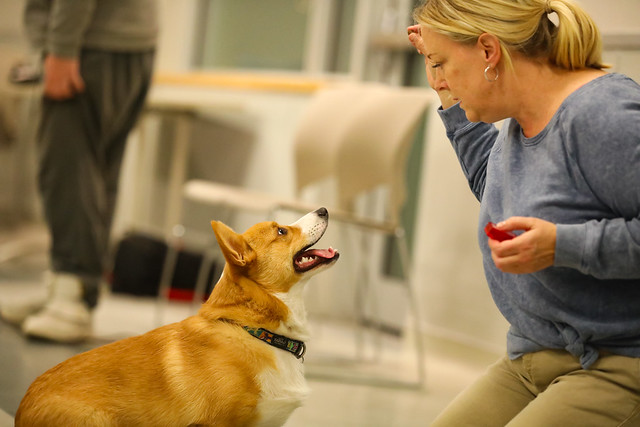 On Sept. 8, for the first time since March 2020, the OHS opened the doors of the Shirley Kearns Memorial Adoption Centre to visitors.
Throughout the pandemic, the OHS has been here for the animals. The need to safely maintain core services — lost and found, animal care, veterinary care, adoption, admission of owner-surrendered animals, emergency housing — has had to take precedence over other programming. The OHS has been very cautious, often going above and beyond provincial and public health guidelines, because an outbreak among staff would be disastrous for Ottawa's animals, left with nowhere to go.
Adoption by appointment ensured Ottawa's animals could still find forever homes during the public health crisis and helped safeguard the health of the community and OHS staff. The model has proven to be popular and helps ensure the best possible match is made for every animal and adopter. As a result, adoption appointments have continued as visitors have returned to the adoption centre.
New programs that were launched during and because of the pandemic: the Emergency Pet Food Bank and Partner Support Program will continue for the foreseeable future. Some programs, like the Pet Loss Support Group, were moved online and will remain online as participants have preferred this model.
A number of other on-site programs, like microchip clinics, pet care seminars and pet first aid classes, will be re-launched gradually throughout the fall/winter, when the OHS is confident that these programs can be offered safely.
Visit the OHS website to stay up-to-date on the OHS's reopening plans.
Marineland Misery
Marineland continues to be a stain on animal welfare in Ontario and thrashes against efforts to improve the wellbeing of the captive animals at their amusement park.
In July, it was reported that on May 10, 2021, Ontario's Animal Welfare Services issued two orders to Marineland to repair the water system in pools housing beluga whales, dolphins, walruses, sea lions and the orca, Kiska.
Inspectors stated: "The life support systems for marine mammals at Marineland have been found to be in need of repair, and parts have not been maintained." Inspectors also added that water quality sampling showed results that were "outside of minimum parameters required."
Marineland had until May 17 to repair or replace malfunctioning equipment in order to meet water quality parameters.
Instead of addressing the issue, Marineland fired back, appealing the orders, denying their animals were in distress and arguing that the inspectors did not have the expertise to evaluate marine mammals, and therefore did not have jurisdiction to issue the orders.
This is not the first time Marineland has stomped on attempts to help the marine life captive at their facility. The park previously lashed out against Bill S-203 which aimed to end the captivity of whales and dolphins in Canada, and Marineland's business model of exploitation was grandfathered into the legislation.
Why Marineland staunchly defends the way it treats its animals is obvious: money. For organizations that exploit animals for entertainment, money is the only motivation. The best way to stop organizations fueled by greed is to cut into their profits. Vote with your wallet, do not patronize these cruel businesses and encourage others to do the same.
Cast a Vote for Animals
The federal election is right around the corner and voting is one of the most impactful ways you can make a difference for the animals in your community and across the country.
This year's election is especially important as major political parties have announced that their platforms include considerations for animal welfare and animal protection. These topics include protections for farm animals, animals in entertainment, enforcements to prevent unethical breeding at home and abroad, and protections for human and animal victims of domestic violence.
Representatives of major political parties also recently participated in a debate about animal welfare and protections. And Humane Canada has created a comprehensive election toolkit to help voters better understand each party's position on animal welfare and what voters can do to make sure their voice is heard.
Let your local candidates know you value a government that protects animals and cast your vote for the voiceless.
Ask your representative, "If elected, what will you do to build a humane and compassionate community for all?"
Code Red Climate Change
Last month, the United Nations climate panel delivered a report indicating the world is certain to face the devastating effects of climate change for decades, if not centuries to come, and that, of course, humans are directly responsible for the climate disasters.
The deadly effects of climate change are no longer a dire prophecy of the future, but instead the frightening reality of the present. One doesn't need to look farther than our own country, or even our own province for examples of climate change's calamities.
Warmer and drier summers in Ontario have led to more frequent, larger and intense forest fires. In late August, nine forest fires were burning in northwestern Ontario. While forest fires do play a role in nature's cycles, their out-of-control frequency and intensity is a direct threat to wildlife.
On the west coast, this summer's record heatwave killed billions of shellfish, and raging forest fires erased the town of Lytton.
Without action, these extreme weather events will only continue to amplify. While certain consequences of climate change are now irreversible, it is still possible to prevent or limit some of the devastation to come.
Individual action remains ever relevant, but only governments truly have the ability to make the massive changes needed to save the planet and its human and animal inhabitants.
Demand government action on climate change, and remember that your vote could save the world.
Buddy & Belle: Sundae
Meet Sundae, a two-year-old cat, who found herself scared, lost and hurt in the middle of a busy street.
While we'll never know what happened to her, what we do know is that Sundae was all alone, lying in the street in a lot of pain, before she was found and rushed to the OHS.
Thank you!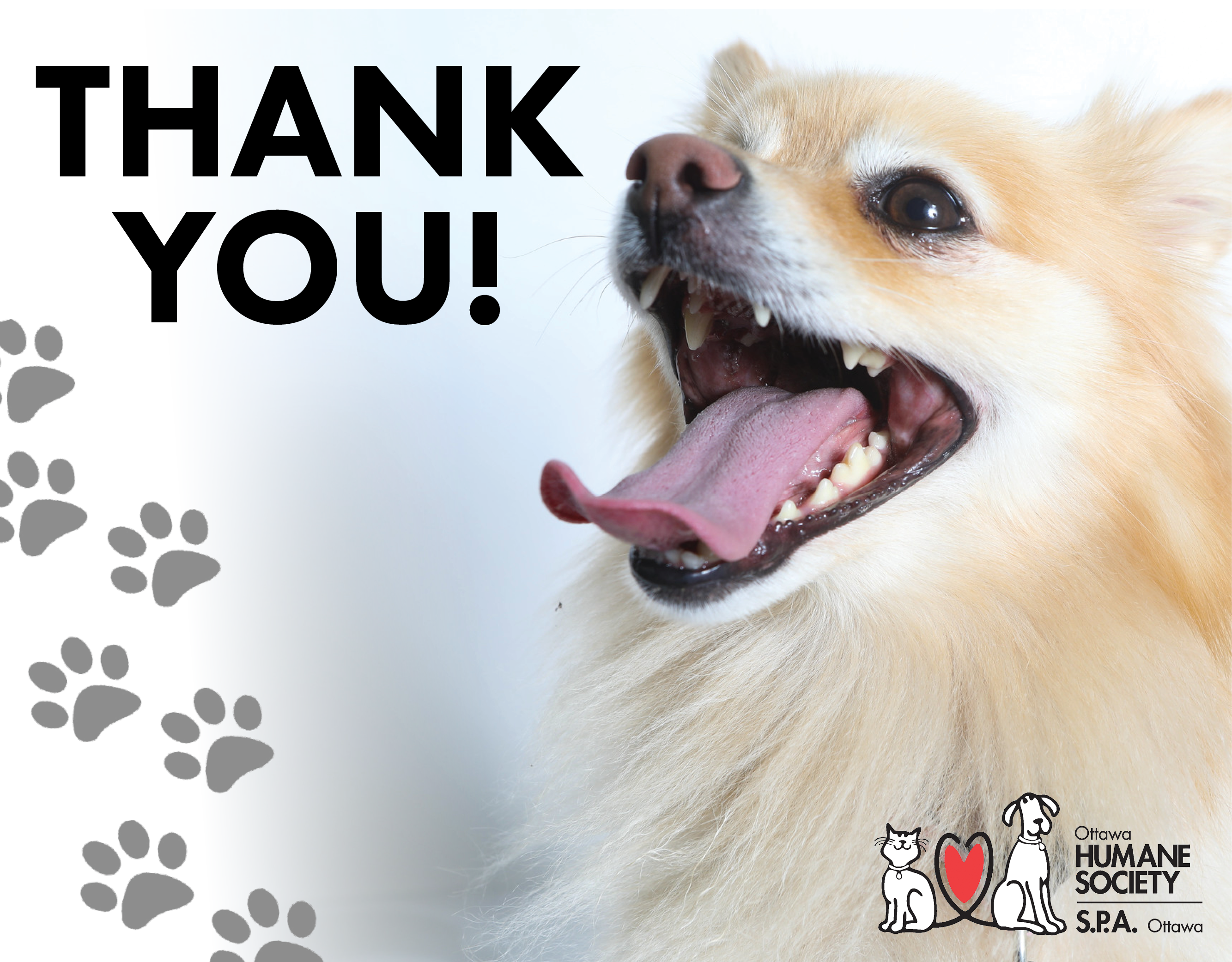 A tremendous thank you to everyone who donated to our Day of Giving event!
Thanks to you, Ottawa's animals can receive life-saving surgery, medications, everyday care and ultimately find their forever families.
Thank you to our sponsors:
Ottawa Humane Society
245 West Hunt Club Rd, Ottawa, ON K2E 1A6
donations@ottawahumane.ca | www.ottawahumane.ca
The Standards Program Trustmark is a mark of Imagine Canada used under licence by the Ottawa Humane Society.
The Humane Canada Accreditation Program mark is a licensed mark of Humane Canada used under licence by the Ottawa Humane Society.
Privacy Statement
Manage your Email Preferences