Here for The Animals When They Need Us Most
OHS foster volunteers with some of the animals in their care.
The primary goal of the Ottawa Humane Society during this crisis has been to ensure that we are here for animals in distress either because of the health crisis, or simply during the crisis. We have had to scramble to ensure we have the resources — staff, medical supplies, food, etc. — on hand for animals that desperately need our care. One of our bigger concerns has been ensuring we have space in the shelter for animals in distress as we approach a season where we would normally expect the shelter to be full.
Our amazing foster volunteers have stepped up to take record numbers of animals into their homes and our community has been terrific in bringing us animals that are in distress. To date, our community and our volunteers have helped to reduce the numbers of animals on site.
Another new strategy we have used to maintain emergency space in the shelter has been to share photos and information about lost pets on social media, with the hope that getting the word out quickly and widely would result in more stray animals being reunited with their owners faster. One unintended consequence of this initiative has been a perception — and rumour — that people are abandoning their animals in greater numbers. Thankfully, this is not the case.
Bruce Roney
OHS President & CEO
Food is an Essential Service: OHS Launches Weekly Emergency Pet Pantry
The OHS is dedicated to providing support and essential services to vulnerable animals in the community. To reach all vulnerable animals, this support must extend to pet owners and their animals. This is true now more than ever, with many responsible and loving pet owners facing unforeseen financial hardship as the public health crisis continues without a clear end in sight.
In response to this crisis, and in an effort to keep pets with their families, on April 30 the OHS launched a weekly drive-thru pet pantry providing food to support as many as 60 animals. Despite a rainy first day, staff enthusiastically followed a curb-side model to ensure physical distancing and to limit contact with clients.
The emergency pet pantry provides food for two weeks at no cost to pet owners, and is accessible every four weeks. Transportation can pose a significant barrier to those most in need, so several partner agencies are picking up emergency pet food and distributing directly to their clients.
The need for support is expected to increase throughout the coming months with more pet owners requiring assistance, and the OHS will continue to support the community with emergency pet food through this crisis.
Please consider supporting the OHS Emergency Pet Pantry by making a donation at: ottawahumane.ca/petpantry.
Saving More Kittens During COVID-19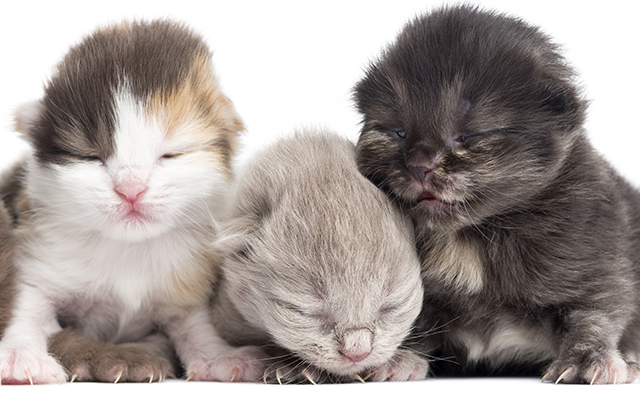 The OHS has found a way to keep helping kittens during the COVID-19 pandemic, through a novel program.
Every year, over 300 orphan kittens are brought to the OHS for care. Most spend some time at the OHS before being placed into specialized OHS foster homes for several weeks. Caring volunteers bring kittens to the OHS for regular check-ups and veterinary care. But during this public health crisis, the OHS, like most shelters across North America, is making every effort to prevent all but critical cases from being housed and cared for at the shelter, so it remains available to help animals in crisis. With limited adoptions taking place, many of its regular foster homes are already busy caring for other OHS animals.
To solve the problem, the OHS has developed a new Kitten Caretaker program. In this new initiative, finders of kittens are being asked if they would act as Kitten Caretakers for a few weeks, until the kittens are ready to be sterilized and placed for adoption. The OHS supports Kitten Caretakers by assessing kittens, providing caretakers with necessary supplies, training and regular virtual appointments to check-in on the kittens' health and provide support along the way. The OHS will provide any veterinary care the kittens require. Kittens that need a high level of care will continue to be admitted to the shelter for closer monitoring, but this initiative means that most healthy kittens won't actually need to spend much time at the OHS, freeing up the shelter team to remain available for urgent cases. Where a finder prefers not to act as a Kitten Caretaker, the kitten(s) will be triaged through one of OHS's experienced and registered foster homes.
The OHS has developed a graphic to help community members determine what steps to take if they find an orphan kitten — or a litter of them!
OHS Pet Plan Online Auction Opens
Can the animals count on you to be an active and generous bidder?
The OHS Pet Plan Online Auction went live as of May 1 at 7 a.m. and runs until 5 p.m. on May 31. All you need to do is register with 32Auctions.com to bid on a huge selection of incredible experiences, gift cards, baskets, artwork and so much more!
The animals need your help now more than ever… donate now.