A GREAT-DANE-sized newsletter with wonderful things YOU make possible!
If you do not see the full page with images, please click here.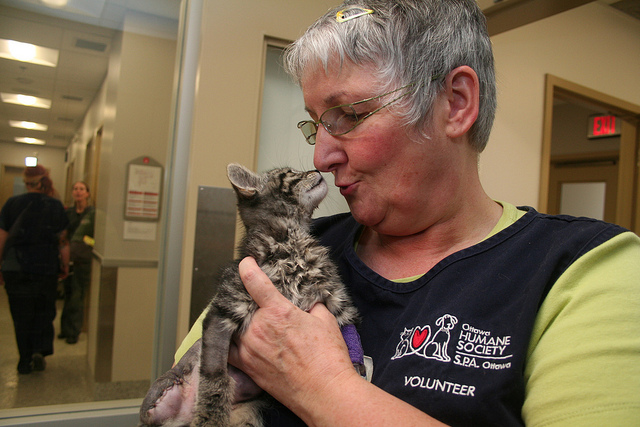 Volunteering: Beyond Just Wanting to Help
The Ottawa Humane Society is fortunate to employ close to 800 dedicated and talented volunteers, who collectively give more than 52,000 hours each year to help the animals in our care. Volunteers help us care for close to 10,000 animals each year. Without this support we would not be able to help so many animals.
To set our volunteers and staff teams up for success, we have a lot of policies and processes in place. This ensures that all volunteers work in a safe manner, and one that ultimately saves lives. With such a large volunteer program, it is essential that volunteers adhere to policies and procedures, consistent with best practices, to give animals a second chance. For example: what would happen to the orphan kitten in foster care if it were not given medications in their foster home consistent with veterinary direction? Or, what would happen if a volunteer working in the OHS clinic did not monitor animals post-surgically as trained?
Ultimately, adherence to policies and procedures, especially when working with animals, helps to keep both volunteers and animals safe. We know some of these policies may appear rigid and give limited room for flexibility, but they are made in the best interest of all parties involved.
Staff and volunteers often have innovative ideas for improvements, and sometimes, concerns about why some of our practices are in place. We are always open to ideas and concerns.
Volunteers who would like to suggest a formal change to an existing process or policy, may discuss these with their program lead, and provide them with their feedback.
For more serious matters, volunteers may follow our complaints process. Thank you for your ongoing commitment to the animals. You are saving lives every day.
UPCOMING EVENTS

Join us for a BOO-tiful day!

The OHS is hosting its annual spook-tacular Howl-o-ween family event on Saturday, Oct. 26 from 11 a.m. to 1:30 p.m. Please join us—in costume—for some festive family fun, spooky snacks, themed crafts and activities. For more information about this event, email our supervisor: programs today.

Save the Date: Ottawa Pet Expo

The OHS is participating in Pet Expo again this year! This year's show is all about promoting responsible pet ownership and bringing together those of us that share the passion of family pets. There will be 200 exhibitors on-site throughout the weekend. To volunteer at this event, email manager: volunteers.

Santa Paws Will Soon Be "Dashing Through The Snow" and We Need Your Help!

Starting Nov. 27, Santa Paws is coming to town and he'll be at the Ottawa Humane Society all month long. We are in need of volunteers for a variety of roles, including: photographer, photography assistant, greeter, photo printer, registration and the big guy himself. To sign up to volunteer for this fun and festive event, contact our manager: volunteers by email at volunteer@ottawahumane.ca.

Can't volunteer? Bring your family and furry friends to have your portrait taken with Santa and help Ottawa's animals. All proceeds from this event go directly to supporting the animals in the care of the Ottawa Humane Society. Dates and times of photo sessions are available here.

Save the Date: Santa Pet Pics

Mark your calendars for Nov. 27 and bring your furry friends and family to have your portrait taken with Santa!

Save the Date: Critter Christmas

Join us on Saturday, Nov. 30 from 11 a.m. to 1:30 p.m. to kick-off the holiday season at our annual Critter Christmas family event. Visitors can look forward to participating in cookie decorating, festive crafts and games, seasonal snacks, and more! To volunteer for this event, email our manager: volunteers today.

Save the Date: Holiday Donor Open House

On Dec. 1, the OHS is hosting its annual Holiday Open House to honour our donors for the support they give to Ottawa's animals and for the wonderful changes they make possible. If you would like to volunteer at this event, while showing your appreciation for OHS donors, email manager: volunteers at volunteers@ottawahumane.ca.
WARM HEARTS RAFFLE
Help us raise funds for the animals!
The annual lottery season is upon us and we need your help to break last year's record! Help us sell out the event by selling OHS Warm Heart's Raffle tickets on behalf of the OHS. By selling tickets, you have the chance to win a pair of tickets to our 2020 Garden Party!
The grand prize draw takes place on Feb. 14, 2020:
First place: $6,000
Second place: $3,000
Third place: $2,000
If you would like to sell tickets on behalf of the OHS, email our manager: volunteers for more information volunteer@ottawahumane.ca.
Feeling lucky? If you are not interested in selling tickets, you can still support the lottery by purchasing your tickets today. Thank you in advance for helping support this important event where all proceeds generated support the close to 10,000 animals we help every year.
VOLUNTEER PROFILE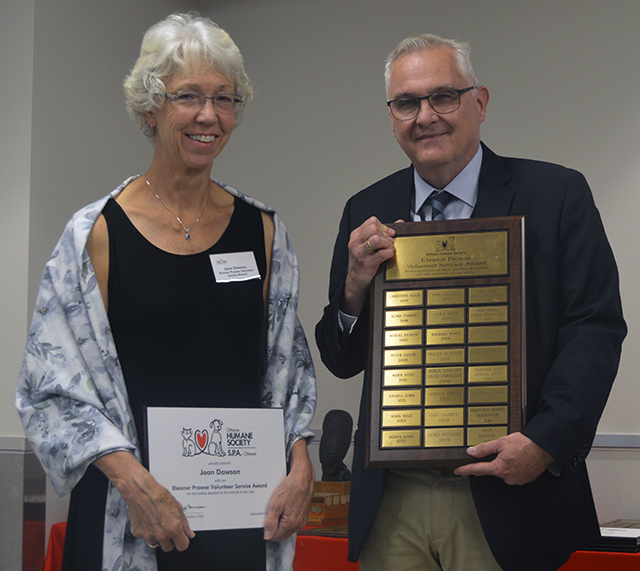 AGM Award Recipients
On Sept. 17 at our Annual General Meeting, the OHS celebrated and honoured some of our most dedicated volunteers.
Siobhan Sheflin Memorial Award — This award is given to an outstanding foster volunteer for their help providing animals with a second chance at a loving, forever home. This year, the Siobhan Sheflin Memorial Award was awarded to two outstanding foster volunteers—Linda Lucker and Scott Ferguson. After living and volunteering on the East Coast, and then the West Coast, Linda and Scott settled in Ottawa. Scott works in IT and Linda provides support for their family. Their dwelling is slightly on the smaller side, but there is always plenty of room for a foster feline. The OHS foster department is used to their next foster request being, "whoever needs fostering the most." They enjoy the diversity of having different types of foster guests: adopt-from-foster, kittens, or cats in need of behavioural intervention or support. Their longest term stay was Cinderella, who was lucky enough to spend close to 350 days in their loving home!
Eleanor Prowse Volunteer Service Award — This award is given to an outstanding volunteer for tireless devotion to the animals in our care. This year, we proudly presented this award to Joan Dawson. Joan started volunteering for the OHS in Oct. 2015 as a feline enrichment volunteer. Five months into her time volunteering at the OHS, Joan met an amazing 11-year-old, four-toothed, Siamese cat named Shadow. Shadow instantly won Joan's heart and taught her how to respond to and nurture cats in her care. Joan's experience with Shadow helped make her the amazing feline-focused volunteer she is today. In 2017, she expanded her role into clinic recovery and our seasonal in-house orphan kitten program, while still maintaining her feline enrichment role. Since joining our team she has given more than 1,240 hours to helping the animals in our care.
Please join us in honouring Linda, Scott and Joan for their ongoing commitment to giving animals a second chance at a bright and healthy future!
NEWS FROM THE VOLUNTEER DEPARTMENT
Brightening Lives Animal Visits Program Joins the CKC!
The Brightening Lives Animal Visits Program (BLAV) is an amazing program that we've been offering our community since 1986. OHS volunteers take their companion animals to hospitals, retirement residences and other long-term care facilities where they meet and interact with the residents. Some of these residents may not receive many visitors otherwise, so this program truly does help to brighten their lives. The BLAV program also brings residents together, as they share a common bond—their love for animals.

In Jan. 2019 the Canadian Kennel Club (CKC) officially started granting therapy title recognition and certificates for therapy work from CKC-approved therapy dog organizations. In August, the OHS joined this team of approved therapy dog organizations and now dogs who participate in our BLAV program are eligible to receive title recognition through this CKC program! Titles include Therapy Dog Novice (THDN) with the completion of 10 visits, Therapy Dog (THD) with the completion of 50 Visits, Therapy Dog Advanced (THDA) with the completion of 100 Visits, Therapy Dog Excellent (THDX) with the completion of 200 Visits, and the Therapy Dog Distinguished (THDD) with the completion of 500 Visits.

Do you have a canine companion who'd be perfect for this program? We are recruiting! Click here to learn more about this opportunity.
Thank You for Your Continued Support—Outreach Program Discount to Offer to You!
We are pleased to announce that all OHS volunteers are now entitled to a 15% discount on registration fees for the following OHS programs:
Camps
Youth programs
Group obedience classes
Behaving Buddies workshops
Pet First Aid courses
Seminars
Programs exempt from this discount include: tours, field trips, birthday parties and private obedience. To apply the discount, use the promo code VOLUNTEER2019 when registering online. PLEASE NOTE! This promo code is only valid until Dec. 31, 2019. All online registrations processed with this code will be verified to ensure only active OHS volunteers are using it. A new code will be released in Jan. 2020.
Stay tuned for more information – we cannot wait to show you our appreciation!
Thank You for Joining Us in Celebration! Save the Date for Our Next Workshop!
Thank you OHS volunteers for spending the evening of Sept. 24 with us at our annual end of summer volunteer appreciation event. We thoroughly enjoyed celebrating all of your achievements over the summer, while dining on our delicious supper sponsored by Jack Astor's on West Hunt Club Road.
Join us for our final educational workshop of 2019, Fun with Felines: Having Fun One "Click" at a Time!
During this seminar, volunteers will learn all about clicker training and how to get started with a cat at home, presented by RVT Jamie Wolfe Phillips. Clicker training concepts and methods will focus on problem prevention and feline enrichment. This workshop is being held at the OHS, on Friday, Nov. 22, from 6:30 to 8:00 p.m. Please sign up to attend today by emailing our CSR: volunteers.
Notice! Foster Department Hours Change
Effective Dec. 1, 2019, the foster team will be moving back to its fall/winter schedule. The department will no longer be open on Sundays, and will move back to reduced hours in the evening.
Event Volunteers: Thank You for Continuing to Make a Paw-sitive Difference!
Thank you OHS event volunteers for helping us successfully host and participate in so many events this fall. Thanks to your gift of time we participated in Capital Pride, hosted Seniors' Day, and raised more than $206,000 for the animals in our care through the OHS Wiggle Waggle Walk & Run for the Animals!
Do you enjoy meeting new people, getting out in our community, all while helping to raise funds for the animals in our care? If you answered "YES," you need to join our events team today! Email our manager: volunteers to learn more.