June 7, 2017
Stop the Bull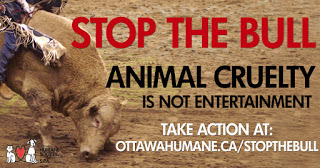 A friend contacted me last night to make sure I was aware that bull riding is coming to Ottawa this Friday. I wasn't aware and I was horrified. The promoters are billing it as "Man vs. Beast," but it's really an animal cruelty showcase that has no place in our community.
Bull riders use electric prods, spurs and straps tightened around the animal's abdomen/genitals to make the bull buck and charge — they're bucking to stop the pain. It's a lifetime of torment that begins when the youngest bulls are chosen with criteria that weeds out all but those with the most hysterical reaction to the suffering.
This event is inhumane and I am hoping you will boycott it and spread the word to your networks that these practices are abusive, cruel and have no place in our community.
I also hope you will tell City Council that Ottawans vehemently oppose the cruel treatment of animals and that these events are not welcome here by signing the petition now.
Together, we can make our community free of these horrific events.
Bruce Roney
Executive Director