Search Results for:

pet loss
Welcome Back: Programs Reopening
This morning, I got to do something I haven't been able to do for a year and a half: I greeted a volunteer. She was so happy and so was I. During the pandemic, to protect our staff and thereby our ability to care for animals, all but our super-essential foster volunteer program were suspended. Slowly, though, volunteers are returning and it's wonderful!
Last week, I wrote about the Shirley Kearns Memorial Adoption Centre reopening to visitors on September 8, and the life it will breathe into the OHS. But the OHS is much more than the adoption, centre and there are many other programs that need to be revived.
Of course, the new programs that were launched during and because of the pandemic: the Emergency Pet Food Bank and Partner Support Program will continue for the foreseeable future. Some other programs were moved online. Our Pet Loss Support Group will remain virtual for the coming months, as many participants have preferred this model. The OHS Scouts/Guides Program has continued successfully online and so we have not yet identified a date to resume in-person. Seminars will remain online until November.
Other programs offered on-site will require staff training and re-training and confidence in our ability to offer them safely, and so will be re-launched over time.
The OHS Newcomers Program, helping those who are new to the country navigate urban wildlife and pets in Canada, is expected to resume in fall 2021 for adults and in January 2022 for children.
Obedience Classes are expected to be available in-person in October and Pet First Aid Classes are expected to be available in late fall.
Pet Savvy, the OHS's educational program for low-income pet owners, will restart in January 2022 and we are planning to resume the LEAD program for at-risk youth in November 2021.
Registration for programs for teens — the OHS Animal Advocate Program, Leadership Camp and Apprenticeship Program — is expected to resume in December 2021. For younger children and youth, the OHS is planning to resume school-based humane education programming and animal welfare clubs in January 2022.
Because of the unknowns associated with the Delta variant in children, camps and birthday parties as well as field trips and child and youth tours will remain on hold until January 2022, with adult tours planned to resume in December 2021.
Sadly, for the safety of our staff and clients, and to comply with restrictions from the province and Ottawa Public Health, the Mobile Spay/Neuter Service will remain suspended for the time-being. We are eagerly planning to resume this important service safely as soon as possible.
Because of concern about the ongoing risk to seniors, at this time, we don't have a planned date for when Brightening Lives Animal Visits or Seniors Days at the shelter will resume.
The pandemic has taken a toll on all of us. It has affected every part of our lives. It has affected the OHS and our plans to build a caring and compassionate community. I can't wait to get back to those plans, because right now they are needed more than ever.
Bruce Roney
President & CEO
Animal Tips
We all love our animal companions but sometimes we need information on their behaviour. Our pet care information will help you develop and maintain a long and rewarding relationship with your furry or feathered friends.
Note: Some of the tip topics below are available as web pages on our website, some link to information on other websites, and others are PDFs.
General Animal Tips
Pets Need Dental Care
Dental disease can be a big problem for cats and dogs. By age three, the majority will have some degree of dental disease, potentially leading to some serious health consequences for your pets.
Over time, plaque and tartar gradually build up on your pet's teeth. Eventually, this build up will start to move under the gum line causing inflammation of the gums, known as gingivitis.  Gingivitis is one of the earliest signs of periodontal disease, the majority of which happens below the gum line, making it very difficult to see the extent of the damage in your pet's mouth.
As periodontal disease gets worse, it destroys the bone around your pet's tooth. This will continue until the tooth is eventually lost. This can cause significant pain and infection. Pets with periodontal disease also tend to have bad breath. Untreated, this can lead to pathologic jaw fractures from bone loss, infection of the jawbone, and nasal infections. Aside from periodontal disease causing oral problems, it can also have systemic consequences, affecting the kidneys, liver and heart.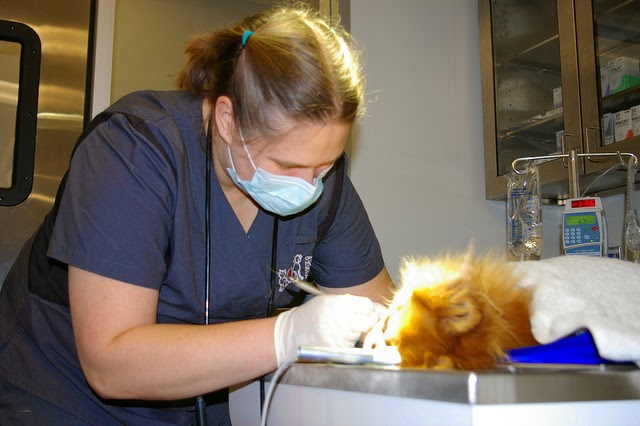 Unfortunately, at the Ottawa Humane Society we see many animals with advanced, untreated periodontal disease.
Another very common dental problem in cats is feline oral resorptive lesions. These are often referred to as "cat cavities" and are caused by normal cells of the teeth eating away at the cat's own teeth. These are very painful lesions once they are in the advanced state. Cats are also commonly plagued by a condition known by many names but most commonly called feline plasma cell gingivitis/stomatitis. This disease is an immune mediated problem causing severe and often painful inflammation of the gums and mouth.
Other oral problems include orthodontic issues, dead/worn/fractured teeth, unerupted teeth, and retained baby teeth.
As you can imagine, we see all of the above on a regular basis here at the OHS. Many of our cats and dogs have to undergo a general anesthesia for a complete oral health assessment and treatment, since it is impossible to provide a thorough dental cleaning and oral examination on a pet that is awake. We remove tartar via dental scaling and then we polish the teeth to help prevent the accumulation of more tartar. We take dental radiographs as needed to assess various dental conditions. We pull severely diseased/worn/fractured/retained teeth when necessary and to correct painful underbites and overbites. Healing from extractions generally takes seven to 10 days. I treat animals with post-operative pain relief medication and they usually require soft food while healing.
Regular veterinary visits are crucial to monitoring your pet's oral health. Your veterinarian will do a preliminary examination of your pet's mouth at your annual general check up. Your veterinarian can recommend many ways to help your pet's mouth stay healthy, which is an important part of caring for your pet's health.
Dr. Shelley Hutchings
OHS Chief Veterinarian
Flea Control
Fleas can be the bane of pet companionship, these annual external parasites can leave the best of pet owners scratching their heads.
These days fleas are mostly harmless.  The biggest problem caused by fleas is the itching.  However, some pets or people may be allergic to flea saliva, which causes flea allergy dermatitis (think super-itchy spots with hair-loss); young, sick or elderly pets can become anemic from too much blood loss.
These wingless insects are capable of jumping long distances.  While cat and dog fleas prefer to feast on animal blood, they will turn to a human host if needed.
The life-cycle of a flea has four stages:
Eggs, which fall from the host into the environment
Larvae, which live off of the fallen fecal matter of adult fleas found in carpets and in lawns.
Pupal stage, which is the cocoon. They do not emerge until a host is detected (via warmth / vibration)
Adult stage, which feasts on blood.
If you do have a flea-infestation, it is important to treat the pet's environment as well, to eliminate flea eggs and larvae.
There are many over-the-counter and prescription-only products that help solve flea problems.
Over the counter: Flea sprays (both for the pet and environment), shampoos, collars.
While the costs may be lower for over-the-counter products ($5 – $30), they often need to be reapplied to solve a flea infestation.
Prescription only:
Topical treatments (such as Advantage, Revolution)
Pills (such as Program, Sentinel).
The newer prescription products are more expensive, requiring a vet visit for a prescription.  They are usually dispensed in a six-month package, to be applied monthly for the flea season.  However, they are safer, easier and more effective than over-the-counter products.  These products often have additional benefits, such as heart-worm protection, preventing tick, lice and mite infestations.  Because of their ease of use, their safety, and their efficacy, they are highly recommended.
It is important to read all of the instructions carefully before using any flea-control product.  Follow all the instructions.  Never use flea productions designed for dogs on cats, and vice versa.  When in doubt, contact your veterinarian.
Alternatives:
Use a flea comb several times a week on all pets.
Vacuum frequently, disposing of bags immediately after use.
Long grass can host fleas: keep lawns mowed.
Wash pet bedding weekly.
To protect cats from fleas and ticks, as well as a host of other outdoor hazards, cats should be kept indoors at all times.
WELCOME BACK TO THE OHS
The Shirley Kearns Memorial Adoption Centre is now open for visitors. We are committed to the safety of our animals, staff and community, and are taking the following precautions:
The Shirley Kearns Memorial Adoption Centre is open for visitors Tuesday to Friday from 1 to 7 p.m., Saturday and Sunday from 11 a.m. to 5 p.m., and is closed to visitors on Mondays.
Safety measures such as physical distancing, masking and other precautions that were in place during lockdown are currently in place.
Enhanced cleaning measures and physical barriers are in place to prevent the spread of germs.
Adoptions will continue by appointment. Visit animals available for adoption on our website and call 613-725-3166 ext. 258 to schedule an appointment.
The OHS continues to admit stray animals and help owners find their lost pets by appointment and the intake of animals will be prioritized based on need. If you believe your lost pet may be at the OHS, or to bring in an animal, contact us at 613-725-3166, ext. 221.
We will be reintroducing on- and off-site programming and services throughout the fall and winter. At this time, many programs for children and seniors remain suspended.
Programs that are expected to resume in fall 2021 include: 
Newcomers program;
Microchip clinics;
LEAD program;
On-site pet care seminars; and,
Obedience and pet first aid classes.
Certain programs and services that were introduced to support our community during the public health crisis will continue as we reopen.
These include:
The OHS Emergency Pet Foodbank;
Resources and support for smaller rescue partners;
Resources for creating your emergency pet care plan; and
Online private training for dog owners.
Programs that currently do not have a planned start date include:
Seniors Days;
In-person Scouts/Guides program;
In-person Pet Loss Support Group;
Brightening Lives Animal Visits; and,
Mobile Spay/Neuter Services.
The province has not changed the safety requirements in workplaces. Physical distancing, masking and other precautions will continue to be in place as the OHS reopens. As a result, some of our programming will be impossible to reintroduce until the provincial requirements are lifted.
Nova
Hi, I'm Nova!
The staff at the OHS call me a Co-pilot! Co-pilots thrive on being an involved family member, and will likely want to spend a good chunk of their time with you playing, chatting, training, and snoozing. They can handle alone time if you give them enough to do, and their favourite independent activities usually include exploring tunnels, perching by the window, playing with novel toys, and cozying up for a nap. But be ready, because these social kitties will be waiting for you! If you're having guests over, you might find your Co-pilot at your side acting as your official greeter. And if you're working around the house a Co-pilot might just want to help – keep an eye on your keyboard! Co-pilots may also be good candidates for harness training and leash walks outdoors. After living with a Co-pilot, you'll wonder how you ever managed without one.

I am overweight, and I will need a veterinarian to oversee my weight loss plan to make sure I lose weight safely. I need a prescription veterinary diet and regular veterinarian visits to follow my progress.

I have medical needs; please contact an Adoption staff member to inquire about me Nova shelter number A235644.

I had surgery to treat a torn ligament in my knee. My recovery went very well. I will benefit from weight loss and ongoing veterinary supervised physiotherapy exercises to continue to build strength and mobility in my knee.

I have had some trouble cleaning my back end which has led to some skin irritation. I will benefit from a veterinary weight loss plan which may improve my ability to groom. My conformation may continue to predispose me to skin issues around the back end even with weight loss. I may need some help to make sure my hind end stays clean. It is possible I may need veterinary care if I develop skin irritation in the future.

Adoptions are currently being done by appointment, with a curbside option available. If you are interested in adopting me, please email the OHS a completed adopter profile found at https://ottawahumane.ca/adopt/

Items you must have with you:


Proof of Address
Photo ID
Animal Carrier
Collar

Pet supply needs can be purchased at the time of adoption. All proceeds from your purchases in the OHS Buddy & Belle Boutique support the animals at the OHS.

OHS Events
Come to an OHS event and have a great time while helping the animals!
OHS-organized events and events run by the community help more than 8,000 animals that we care for each year. Check out our event calendar for all of our upcoming events or organize one yourself and raise money for Ottawa's animals!
Upcoming Events:
After Hours Emergency Clinics in Ottawa
If your pet is in immediate medical danger or you are helping an animal that has been seriously hurt, the following emergency vet clinics are open in Ottawa: