Humane Education School Program
Humane Education Program Volunteering
Not currently recruiting.
We need your help!
The school program has been visiting schools in the Ottawa area since 1990. This program teaches children about responsible pet ownership, dog-bite prevention and the role of the Ottawa Humane Society in the community. Animal welfare topics are presented Monday to Friday from October to June. A two-member team of humane education volunteers delivers a one-hour, scripted presentation that includes a short video. In addition, a behaviourally assessed dog is introduced in a supervised session with the children. Volunteers are responsible for either facilitating the presentation (presenter) or facilitating a visit with a behaviourally assessed companion animal (handler). Presentations are delivered in French and English.
May I use my pet in this program?
For the handler role, we are ONLY looking for handlers with their own canine companions. Dogs must be friendly towards all people and children, be a minimum of 2 years of age and successfully pass a behaviour assessment here at the OHS.
Humane Education School Program volunteer requirements:
Comfortable handling companion animals (dogs and cats)
Experience working with children and/or youth
Able to speak in front of child and/or youth audiences
Knowledgeable and comfortable discussing issues related to animal care and welfare
Access to a vehicle
Able to make a commitment for at least one school year, to one, three-hour biweekly shift
We are not currently recruiting for this program.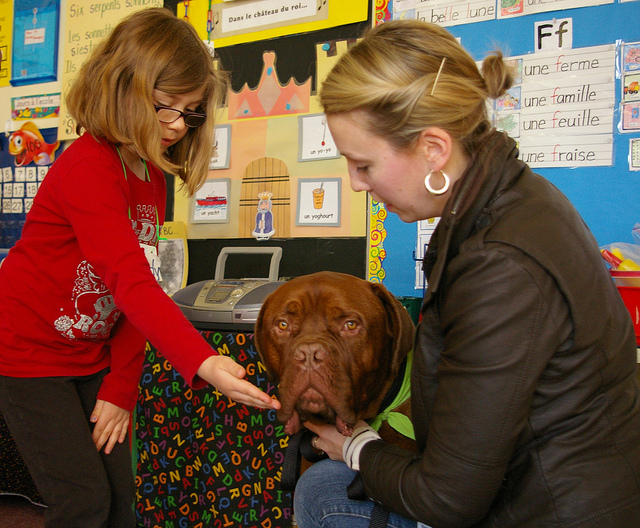 Steps to becoming a Humane Education Program Volunteer:
Complete the volunteer application
Ensure you specify on your application the program and position (presenter or handler) for which you are interested in volunteering.
Volunteers whose skills and availability match the humane education school program volunteer requirements will be contacted for an interview.

Following a successful interview, volunteers will be asked to submit a criminal record check and attend a scheduled orientation.
For more information contact our manager: volunteers via email at volunteer@ottawahumane.ca or by telephone at 613-725-3166 ext. 231.
We encourage you to browse our site for other volunteer opportunities at the OHS. For any questions, please contact volunteer@ottawahumane.ca. Thank you for your interest in our Humane Education School Program!